RBS chief apologises for NatWest banking problems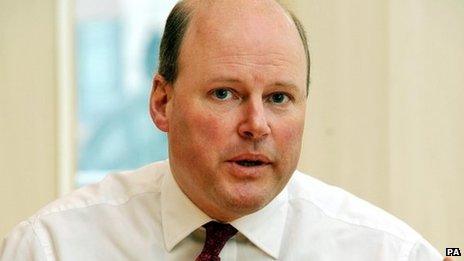 RBS chief executive Stephen Hester has apologised for technical problems which left customers of the group's banks unable to pay bills or access money.
He said: "Our customers rely on us day in and day out to get things right. On this occasion we have let them down."
NatWest is set to open 1,200 branches on Sunday to clear a backlog caused by a problem with computer software.
The technical fault, now fixed, disrupted payments to and from NatWest, RBS and Ulster Bank.
The problem began on Thursday and is believed to have arisen after staff tried to install a software update on RBS's payment processing system, but ended up corrupting it.
NatWest will open from 09:00 until noon on Sunday, for the first time ever.
More than 1,300 NatWest, RBS and Ulster Bank branches stayed open until 16:00 or 18:00 on Saturday.
Mr Hester added: "I also want to be clear that where our customers are facing hardship or difficulty we can and will help them.
"Our staff have already helped thousands of customers to access cash and we will continue to provide this service on a 24-hour basis while we work to resolve the problems.
"I also want to reassure customers that no-one will be left permanently out of pocket as a result of this, and again, they should contact us directly about this."
Mr Hester said the bank had doubled the usual number of staff in its call centres.
"Right now my top priority, and the priority of the entire RBS Group, is to fix these problems and put things right for our customers," he said.
"Once again I am very sorry for the inconvenience."
Susan Allen, director of customer services at the RBS Group, said that although the underlying computer failure had been resolved there were still a lot of accounts to update.
NatWest and Ulster Bank are part of the RBS group, but the problem has not been confined to customers of these banks, because other people whose transactions involve banks in this group have also been affected.
The Financial Ombudsman Service has said that anyone affected should keep a record of how they were financially disadvantaged.
Anyone unhappy with how their bank was responding to their concerns could make a complaint to them, a spokesman said.
Banks are obliged to return affected customers to the position they should have been in had the problem not occurred.
NatWest has 7.5 million personal banking customers and said a large number had been affected. Ulster Bank said earlier that 100,000 of its customers had been affected.
Related Internet Links
The BBC is not responsible for the content of external sites.