Cherie Blair herds goats to highlight Widows' Day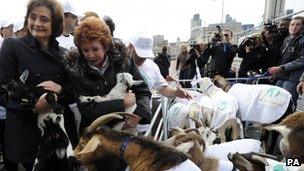 Cherie Blair has marked International Widows' Day by driving a herd of goats across London Bridge.
The lawyer and wife of former Prime Minister Tony Blair said goats could bring an income to widows in the developing world.
The stunt was the brainchild of Lord Loomba who, as a Freeman of the City of London, exercised his ancient right to herd livestock over the bridge.
The UN says half of the world's 245 million widows face poverty.
Mrs Blair said: "I am the president of the the Loomba Foundation and for the last 15 years we have been campaigning for better rights for widows.
"Two years ago the UN recognised this day as International Widows' Day and this is the second time we've celebrated it, and this year we wanted to highlight the fact that a goat can bring an income to a widow.
"Various people have kindly sponsored the goats, so that widows will be able to earn an income from them - not these particular goats obviously - but goats across the world," she added.
After crossing the bridge with the goats, Mrs Blair and others involved in the event went to Downing Street where Deputy Prime Minister Nick Clegg, hosted a reception.
Mrs Blair, who was joined by former singer and TV presenter Cilla Black, outlined what could happen to women in many parts of the developing world when their husbands died: "Widows across the world suffer stigma, they suffer poverty, they're often driven into prostitution, they're shunned by their families, and they're dispossessed of their property at a time when they are at their most vulnerable because they've lost their husbands."
Leana Hosea, a BBC World Service reporter, asked her: "The war on Iraq, which was co-led by your husband Tony Blair, created thousands upon thousands of widows. What would you say to Iraqi widows?"
She replied: "Widows have come from three things. Disease - HIV, Aids causes a lot of widows. Poverty, because there are a lot of men who are killed because they do dangerous jobs and of course the wars that sadly we have across the world."