Newspaper review: PM's welfare ideas on front pages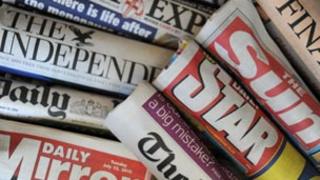 The prime minister's suggestions for cutting the nation's welfare bill feature on some of the front pages.
The Guardian says the left is likely to see them as "the death knell" for his brand of "compassionate conservatism".
According to the Independent , David Cameron is signalling "the return of the nasty party".
But the Daily Mail says his vision stresses the virtues of self reliance, while the Daily Telegraph says he will strike a chord with every taxpayer.
RBS 'fiasco'
The Times accuses the RBS group of "rank incompetence" over the computer glitch that affected millions of RBS, NatWest and Ulster Bank customers.
"It should", the paper says, "take an institution of this size the best part of a week to recover from a failed systems upgrade".
The Mail calls it a fiasco and the Daily Mirror says it was a "disaster".
In the Telegraph , Misha Glenny says the banks will be "biting their nails" as they wait to see if customers leave.
'Landmark' election
There are mixed feelings about the Egyptian election result.
The Independent says the apparently "broadly free and fair election" is a "seminal moment not just for Egypt, but for the Arab Spring and world beyond".
A commentary in the Times calls it a "landmark" while the Guardian sees it as a triumph for democracy.
But an analysis in the Mail says the result will send shockwaves through the Middle East, emboldening Islamic radicals from Bahrain to Syria.
England's Euro exit
A pall of footballing gloom from Kiev descends over front and back pages, after England's exit from Euro 2012.
"England's adventure in the European Championships came to penalties and once again - as usual - they lost," says the Times .
The Sun pictures Ashley Cole and Ashley Young , who missed penalties, under the headline "Ashes to Ashleys".
The Guardian finds consolation in the thought that the side exceeded expectations in Ukraine.