MoD warned over delay and quality of military housing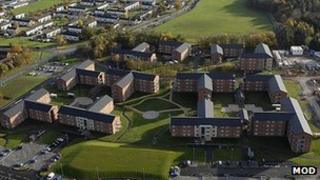 It is "unacceptable" that two-thirds of single accommodation for members of the armed forces is in an unsatisfactory condition, MPs have said.
A defence select committee report also said a planned three-year halt to upgrades sent the "wrong signal" to personnel and their families.
It criticised the MoD's failure to say when housing would improve, warning that delays could damage morale.
The MoD said it would "continue to meet its commitments" on accommodation.
In its report, the cross-party committee said members of the military and their families saw good quality accommodation as "fundamental" to the Armed Forces Covenant - which sets out the UK's obligations to service personnel.
It also suggested that delaying improvements was a "false economy", and called on the MoD to "urgently" look again at reinstating a programme of improvements.
'Tough decisions'
MPs said decent housing promoted unit cohesion and was important for families when servicemen and women were away on operations.
For many members of the forces, the report said, family military accommodation was the only affordable housing solution.
The Families Federation, representing servicemen and women, said inquiries and complaints about accommodation account for more than half of its regular communications.
Committee chairman James Arbuthnot said the MoD's decision to pause work on accommodation "sent out the wrong signal to armed forces personnel about the importance the government attached to the Armed Forces Covenant".
The committee urged the MoD to devise an effective communications plan to explain to service personnel and their families exactly what was being done about their housing.
Responding to the report, Defence Secretary Philip Hammond said that £100m of additional investment in accommodation - announced in the budget - would "deliver more than a thousand new and refurbished single living and service family accommodation after 2013".
He said "tough decisions" had been taken to reduce the MoD's financial black hole - including the pause in major housing upgrades.
"But this new money will help alleviate that," he said.
"Those who call for even more spending need to explain where the money would come from, and which programmes they would cut to fund this."
Shadow armed forces minister Kevan Jones said ministers had broken promises and undermined the military covenant.
"No-one should suffer as a result of their service yet ministers are cutting investment in the housing on which service personnel and their families rely," he said.
"This will damage morale further and is a sign of how out of touch ministers are with the needs of the service community."