Wimbledon to have 'no-fly zone'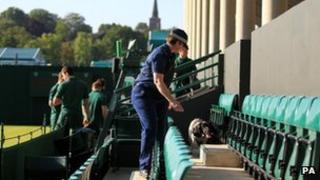 A "no-fly" zone has been put in place over Wimbledon's All England Tennis Club for the first time since 2003.
Wimbledon introduced an air exclusion zone in 2002 and 2003, in the wake of the 9/11 terror attacks in the US.
The Met's Supt Pete Dobson said this year it was not security "driven" and that in 2011 there had been "some noise nuisance from a number of aircraft".
The 0.75 mile (1.2km) perimeter only extends to a height of 500ft (150m) so should not affect Heathrow or Gatwick.
Bag searches
Supt Dobson said: "We have had it in previous years although we did not have it last year"
"It's not been driven by security but of course it does help," he added.
Supt Dobson said the Civil Aviation Authority had agreed to issue a temporary notice excluding aircraft after complaints about noise.
"You just don't want strange aircraft flying overhead if you can avoid it so from a security point of view it helps but it was not the driver," said Supt Dobson.
Last year anti-capitalist protesters targeted Grand Slam tennis tournaments but he said he was not aware of any planned disruption this year.
Plain-clothes officers are on duty and each person's bag is being searched on entry.
Supt Dobson said: "There are a number of individuals that have been banned by the club and there are a number of individuals of interest that have been circulated by the WTA.
"Some of those are stalkers of players, some of them are coaches that have been dismissed, those sorts of things where there have been domestic issues within the tennis world and as a result they are just not welcome at these sorts of events."