Afghan opium crop failure 'led to UK heroin shortage'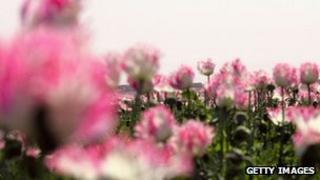 Opium crop failures in Afghanistan in 2010 may have led to heroin shortages in the UK, the United Nations says.
The 2012 UN drugs report suggests the subsequent mixing of heroin with other dangerous substances to make it go further could have contributed to a number of deaths in England and Wales.
Drugs charity Addaction said "any unmanaged disruption in supply" could be very dangerous for users.
The UN also noted a drop in cocaine and amphetamine use in the UK in 2010/11.
Afghanistan accounts for about 63% of global poppy cultivation.
In its 2012 report, the United Nations Office on Drugs and Crime (UNODC) says plant disease, which wiped out almost half of the crop in 2010, appears to have affected illicit heroin markets elsewhere in the world, including the UK.
"By the end of October 2010 and the beginning of 2011, there were definite indications of a shortage in the availability of heroin in Ireland and the United Kingdom," it says.
'Adulteration'
Total seizures of heroin in the UK fell by more than half from 1.7 tonnes in 2009 to 789 kg in 2010.
The UNODC also says the UK's Serious Organised Crime Agency reported instances of prices increasing by 50% and falls of one third in heroin purity levels.
That fall in purity was the result of heroin being mixed - or cut - with other substances, including other drugs, to stretch the supply.
"The adulteration of street heroin with substances such as benzodiazepines and barbiturates also resulted in a number of drug-related deaths in England and Wales," the UN report says.
The UNODC admits it is difficult to establish the extent of the link between the decline of opium production in Afghanistan and shortages of heroin in Britain.
It acknowledges that the dismantling of drug smuggling networks between Turkey and the UK may also have played a role in the decline.
"The full impact of this shortage and its impact on heroin consumption, prices and purity levels may become clearer when more data for 2011 becomes available," according to the report.
But the UNODC warns that the effect of the Afghan poppy blight may be short-lived.
It says Afghanistan has now returned to high levels of opium production, and that rises in poppy cultivation have also taken place in Burma and Laos.
Simon Antrobus, chief executive of Addaction, said the charity had seen a "heroin drought" in 2010.
"The police often work closely with agencies like Addaction to ensure that users affected by drug seizures are supported with treatment, but any unmanaged disruption in supply can be very dangerous," he said.
"When it happens, the strength of heroin on the street can vary hugely, and addicts can start experimenting and increasing doses to get the 'hit' they require. This can easily lead to overdose."
Mephedrone
In other findings the report says cocaine consumption in England and Wales fell from 3% of the population in 2008/09 to 2.1% in 2010/11.
The use of amphetamines, excluding ecstasy, also dropped - from a peak of 3.2% of those aged 16-59 in 1996 to 1.0% in 2010/11.
Cannabis consumption has also been falling in the UK since 2002, the report said.
Elsewhere, it says the market in new synthetic drugs continues to evolve rapidly.
Mephedrone, also known as M-Cat, is now the third most widely consumed illicit drug among adults, after cannabis and cocaine.
In Northern Ireland, 286 of the 3,564 drug seizures in 2010-2011 involved mephedrone, considerably more than the seizures of amphetamines (128) and ecstasy (150).
Formerly a so-called "legal high", mephedrone was made a Class B drug in 2010 after reports of its links to a number of deaths.
It now carries a maximum sentence of five years for possession or 14 years for supply.
There were about 2,750 drug poisoning deaths in 2010 - the latest year for which official figures are available.
About 1,800 of those were due to drug misuse - most commonly heroin.