Lawyers warn MPs and peers over secret courts plan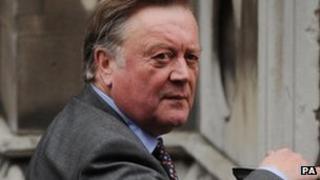 Plans for more secret court hearings will create a "statutory straitjacket" for judges, a barrister has said.
Martin Chamberlain, one of the special advocates due to be involved in such cases, gave the warning to Parliament's Joint Committee on Human Rights.
He said if the justice secretary wanted to hold a hearing in private, a judge would have no power to object.
But the government insisted it was "absolutely clear" judges would decide what evidence could be made public.
Ministers have argued the Justice and Security Bill will protect national security and allow cases dealing with sensitive subjects to be heard in full.
'No balance'
But Mr Chamberlain said a key safeguard that had been promised - enabling a judge to have final say on when secret proceedings were needed - was missing from the draft bill.
"In fact, the position is that the judge is required to accede to the secretary of state's application for a closed material procedure - the word 'must' is used - if there is any evidence at all whose disclosure would be contrary to the interests of national security," he told the committee.
"So there is no ability for a judge to say, 'I think this is the type of case which could perfectly fairly be tried using normal public interest immunity rules.'"
He went on: "You are going to be giving them [judges] a statutory straitjacket which requires them to ensure that nothing is disclosed contrary to the interests of national security.
"There is to be no balance between national security on the one hand and fairness on the other."
Another special advocate, Angus McCullough, QC, told the committee: "In reality there is no discretion provided for the role of the judge in relation to determining what the fairest way for determining any particular case is."
But a Ministry of Justice spokeswoman said: "It is absolutely clear in the bill that it is for the judge to decide that any individual piece of evidence can be heard in a closed material proceeding.
"If the judge felt that the government was simply trying to avoid embarrassment, rather than protect national security, he could force the government either to disclose the evidence, or to exclude it entirely from the courtroom."
Clare Algar, executive director of human rights charity Reprieve, said the lawyers' comments "must surely sink once and for all the government's claims that judges will have the final decision on secret courts".
"The reality is that ministers will be able to push cases into secret whenever it suits them, leaving judges as little more than a glorified rubber stamp."
The government has made some concessions to its original proposals under the Justice and Security Bill, including dropping plans to allow some inquests to take place in private.