Asil Nadir trial: Polly Peck accountant 'decent person'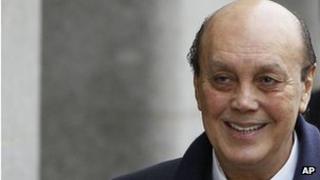 Polly Peck tycoon Asil Nadir has defended his former chief accountant, calling him "one of the most decent persons I have ever worked with".
Prosecutors say John Turner helped Mr Nadir, 71, steal nearly £150m from his empire using "dishonest bookkeeping".
But Mr Nadir, who denies 13 charges of fraud, told the Old Bailey this was an "incorrect assessment" of Mr Turner.
Polly Peck grew from a small textile firm to a global conglomerate before collapsing in October 1990.
The prosecution claim money was transferred from Polly Peck International (PPI) and its subsidiaries to various accounts in the Turkish-controlled northern Cyprus.
It had debts of £550m when it entered administration, but Mr Nadir has told the court it was solvent and he was replacing that money with injections of Turkish lira from his family and various Turkish associates.
Assets sold
On Wednesday, the jury were shown a PPI promotional video from 1989 which showcased its interests globally and predicted a bright future for the company and its shareholders.
When it finished, Mr Nadir's barrister Philip Hackett QC asked him: "Was that your vision for PPI?"
"Yes," he replied.
Mr Nadir, of Mayfair, central London, then criticised administrators for selling off PPI assets at what he claimed was a fraction of their value.
He said a hotel in the Turkish city of Antalya, which had cost £80m to build and opened in September 1990, was sold off for just £22m.
He said the Turkish electronics firm Vestel, which had been worth $900m (about £580m) when PPI owned it, was sold off for £10m.
Mr Nadir added: "They [Vestel] are still trading today most successfully and are on the Istanbul stock exchange... valued at between $1.3bn and $1.4bn."
Earlier, Mr Nadir denied knowledge of various financial transactions involving PPI subsidiaries.
He said: "I was so busy with PPI and there were so many entities. It was impossible for a person to be dealing with all this. I had no day-to-day knowledge or control of that."
Mr Nadir fled to Turkish-occupied northern Cyprus in May 1993, months before being prosecuted for fraud.
He returned to the UK in August 2010 to face the charges.
Mr Nadir denies 13 specimen counts of theft amounting to £34m between 1987 and 1990.
The trial continues.