Newspaper review: Barclays fine hits headlines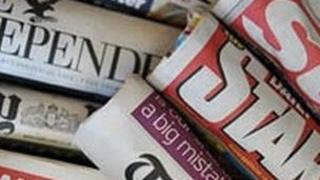 The fine imposed on Barclays for attempting to manipulate interest rates makes many of Thursday's front pages.
The Daily Mail says that damning emails have revealed how greedy traders fiddled figures to make fortunes.
And the Independent says Barclays has been shamed, while the Guardian reports that the bank's chief executive, Bob Diamond, is under increasing pressure.
Mr Diamond and chairman Marcus Agius are fighting for their jobs, according to the Times.
Many papers have a picture of the historic handshake between the Queen and former IRA chief Martin McGuinness.
The Daily Mirror describes it as "hands of history... hands of hope" and the Independent believes the meeting was a miracle of reconciliation.
The Daily Express sees the handshake as the Queen's forgiveness of the IRA, but says she will never forget.
For the Daily Mail, the handshake was an astonishing act of forgiveness by the Queen.
Many of the papers carry a picture of a benefits cheat, who said she was bedridden and unable to open a bottle of wine, enjoying scuba diving.
The Daily Mirror reports that the 53-year-old woman claimed more than £135,000 in disability benefits despite having two jobs.
A "freak tornado" in Lincolnshire sucked a caravan into the air with a man trapped inside, reports the Daily Star.
It says the man, David Sinclair, suffered suspected internal injuries.
Under the headline "Do you know who I am?" , the Daily Mail tells how the minister for the Olympics, Hugh Robertson, was refused entry to London 2012's new media centre.
He did not have his pass and, when two security guards failed to recognise him, he reportedly said they should.
The back page of the Sun focuses on Spain's victory on penalties over Portugal in the Euro 2012 semi-final.
The paper says Spain remain on course to become the first team to win three successive international tournaments.