Asil Nadir says doctors warned him against return to UK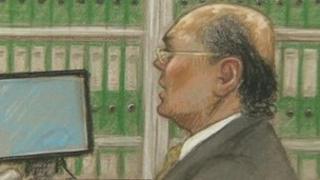 Polly Peck tycoon Asil Nadir has told the Old Bailey that he risked death by returning to the UK to face trial.
The 71-year-old denies 13 specimen counts of theft amounting to £34m from Polly Peck International, before it collapsed in 1990 with debts of £550m.
Mr Nadir fled to northern Cyprus in 1993. He said he returned because he could not live with "this injustice".
"My physicians and heart specialists said 'You cannot go back, you will be taking a great risk,'" he told jurors.
"I sometimes wonder whether living and trying to absorb this injustice, or dying - which is worst."
Mr Nadir said he had not been able to deal with the "injustice" against him and developed serious heart problems and trouble with his kidneys. He had also received psychiatric treatment, he said.
Walk-in safes
Polly Peck International (PPI) had debts of £550m ($858m) when it entered administration, but Mr Nadir has argued it was solvent and he was replacing that money with injections of Turkish currency from his family and various Turkish associates.
He claims he was in the process of arranging £70m of refinancing from three Turkish banks on 24 October 1990 when the PPI board voted to put the company into administration.
The prosecution alleges that Mr Nadir stole nearly £150m from his business empire for himself, his family and friends, through a complex series of transactions, including transfers to a bank he owned in northern Cyprus.
In court on Thursday, Mr Nadir said he only learnt of the prosecution's allegations in December 1990.
"What was alleged against me had nothing to do with me", he said.
Put to him that he had plundered PPI of the money, he said: "I did not."
Cross-examined about the Turkish currency he claims was deposited in Polly Peck's companies in northern Cyprus, Mr Nadir said money was sometimes delivered by security people in suitcases to banks.
He said the cash was kept in security areas in homes or offices and used in the unofficial markets. He said his family had a number of homes with walk-in safes, one of which was owned by his mother and had two safes measuring 1.82m by 1m.
Mr Nadir said that he could not give precise details of a cash "float" kept by his mother and that it was not his affair.
Asked for a single piece of paper showing that his mother or anyone else had lent 10bn Turkish Lire he said: "I cannot reply". Asked if he had looked, he replied "No".
Mr Nadir said the culture of the region's unofficial markets was different from Britain's.
He also told the court he had been told that the Serious Fraud Office (SFO) had opened UK boxes of exhibits containing privileged information before he left the UK.
He said his anxiety increased when he read that the SFO case controller, Lorna Harris, had been disciplined and moved.
"The person who gave birth to this case, Lorna Harris, had lied to the Attorney General," he said.
Mr Nadir said that he was disappointed that demands for an inquiry into his prosecution were turned down.