Two terror arrests in London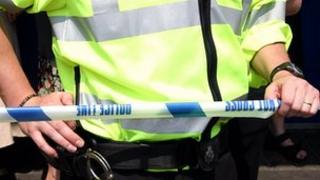 Two men have been arrested in London on suspicion of terrorism offences.
Scotland Yard said that officers had arrested the two men at 07:00 on Thursday at separate addresses.
The men, aged 18 and 32, were held under the Terrorism Act 2000 on suspicion of the commission, preparation or instigation of acts of terrorism.
Officers are searching both the addresses and the men are in custody at a London police station.
The BBC understands that the two arrests may not be of great importance, or linked to a major ongoing investigation.
Anyone who is arrested under terrorism legislation can be held for up to 14 days without charge.
In his latest report , David Anderson QC, the terror laws watchdog, said the government should consider whether some of those detained under the legislation should be allowed bail before charge.
He said "peripheral players" who posed no risk to public safety did not need to be kept in detention and that would allow the police more time to reach a decision on whether to charge them.