Newspaper review: Bob Diamond's Barclays future considered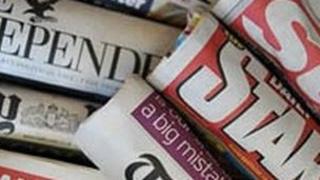 The future of Barclays boss Bob Diamond is considered in several papers after it emerged that staff rigged the key lending rate between banks.
The Financial Times says Mr Diamond is "engulfed in a political firestorm".
The Sun refers to him as "damaged goods" , adding that he should be sacked if he fails to resign.
The only question, as far as the Guardian is concerned , is whether he or the bank's chairman, Marcus Agius, departs first.
A number of newspapers suggest the rate-fixing exposed at Barclays was not confined to that bank.
The Independent quotes a Treasury source as saying: "What we're hearing is that everybody was at it."
At least 20 banks are believed to be under suspicion, according to the Daily Mail . However, the Times says dozens of other banks are being investigated.
And a cartoon by Matt in the Daily Telegraph shows a man selling papers in the street. His placard reads "queen to shake neck of Barclays chief".
The opening of an official memorial to the men of Bomber Command is seen by all as a very belated act of justice.
The Daily Express, which long campaigned for proper tribute to be paid, devotes six pages to the event.
"Patriotism, courage, decency and the defence of freedom need never go out of fashion," it declares.
"At last," says the Daily Telegraph , while the Daily Mirror argues that the memorial was "overdue" and the Times says they will always will be heroes."
David Beckham is seen as the victim of what the Sun calls "an incredible snub" after his exclusion from the Great Britain Olympic football team.
The Daily Star says the huge effort the ex-England captain put in to win the Games for London has been met with "a slap in the face he does not deserve."
An image of Mario Balotelli celebrating one of his two goals in Italy's 2-1 victory over Germany is featured on the back page of the Independent .
"Why always him?", asks its headline.