Two Eta suspects remanded by UK court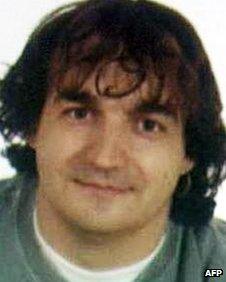 Two alleged members of the Basque separatist group Eta have been remanded in custody by a London court over alleged terrorist offences in Spain.
Antonio Troitino Arranz, 55, and Ignacio Lerin Sanchez, 39, were arrested during an armed dawn raid in Hounslow, west London.
The court heard Mr Arranz was part of a terrorist cell which planned a car bomb attack on a civil guard patrol in 1986.
The men were remanded pending a full extradition hearing on 20 July.
Katherine Tyler, prosecuting, said Spanish authorities raided Mr Sanchez's home in March 2007 and found 150kg of explosives, bomb-making equipment and Eta literature.
For four decades, Eta has waged a bloody campaign for independence for the seven regions in northern Spain and south-west France that Basque separatists claim as their own.
Ms Tyler said Mr Arranz was jailed in 1989 for the 1986 attack, which killed 12 officers.
He was controversially released in April last year after serving 24 years of his sentence. But the hearing was told a court later revoked his release and a warrant was issued for his arrest, by which time he had gone on the run.
Both men were remanded in custody to appear at Westminster Magistrates' Court on 20 July pending a full hearing over Spain's request for their extradition.
Two London addresses were searched on Friday.
A 38-year-old woman was arrested at the same premises as the men for alleged fraud offences. She remains in police custody.
Two other men at the premises were arrested for alleged immigration offences.
The London arrests were not linked to the Olympic and Paralympic Games, which start at the end of next month, police said.
Related Internet Links
The BBC is not responsible for the content of external sites.