Thousands take part in Armed Forces Day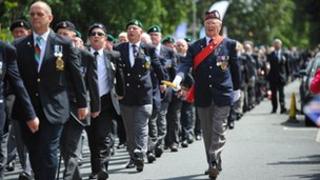 Thousands across the UK have taken part in events marking Armed Forces Day.
More than 100 events took place, including veterans' parades, fun days, barbecues and a 21-gun salute, in culmination of a week of tributes to British troops and their families.
VC-holder L/Cpl Johnson Beharry carried the Olympic Torch through the National Memorial Arboretum, in Staffordshire.
In Plymouth, 1,200 service personnel, veterans and cadets marched through the city.
The government marked the day by announcing £10.85m would be used to fund 100 new cadet units across state-funded schools in England by 2015.
Thousands of well-wishers
Prime Minister David Cameron and the Earl of Wessex were among the guests at the celebrations in Devon, with Prince Edward taking the salute from those marching.
The Royal Navy frigate HMS Argyll also performed a steampast through Plymouth Sound and fired a 21-gun salute in his honour.
Adm Sir Mark Stanhope, First Sea Lord and Chief of the Naval Staff, said he was delighted at the support given by the thousands of well-wishers.
"People across the country from all ages and backgrounds have a deep respect and appreciation for the armed forces, and Armed Forces Day is an excellent opportunity for us all to let our men and women realise how much they are appreciated," Sir Mark said.
"It is from our society that our armed forces are drawn and from our society that we draw our strength."
Around 6,000 people waved union jacks as Victoria Cross winner L/Cpl Johnson Beharry climbed the steps of the National Memorial Arboretum.
L/Cpl Beharry, who paused to salute his comrades at the UK's centre of remembrance, said afterwards it was an "emotional" experience.
"Armed Forces Day is important to see the general public is behind us and support us for what we do," he said.
'Could have been me'
The 1st Battalion, Princess of Wales' Royal Regiment soldier - one of only six living recipients of the highest decoration for valour - suffered serious head injuries during an ambush in 2004 in Iraq.
The UK's centre of remembrance records the names of servicemen and women killed since 1945.
"The hardest part for me was to actually enter the arboretum knowing that I could have been on the wall," L/Cpl Beharry said.
"A few seconds more and I would have been on the wall. So it means a lot to me and all the guys in the service."
The Olympic flame was on its journey from Derby to Birmingham on day 43 of the relay leading up to the Games.
Repatriation Bell
Visitors to the garrison town of Carrickfergus, County Antrim, watched a flypast by Tornado jets, while the Welsh First Minister Carwyn Jones attended a parade in Cardiff.
In Edinburgh, veterans paraded along King's Stables Road and through Princes Street Gardens, while about 1,000 people joined a march through Glasgow, with a flypast by Typhoon jets.
The Countess of Wessex was the guest of honour at a celebration of Armed Forces Day - and the Queen's Diamond Jubilee - in Newcastle-upon-Tyne.
She attended the Tyne and Wear Diamond Jubilee Gala as Honorary Colonel-in-Chief of Queen Alexandra's Royal Army Nursing Corps.
She presented campaign medals to 201 field hospital volunteers who recently returned from active service in Afghanistan.
In Oxfordshire, the national Repatriation Bell was unveiled at Brize Norton, opposite the county's memorial garden.
The bell is on the route between RAF Brize Norton and the John Radcliffe Hospital in Oxford, where the bodies of British servicemen and women are taken when they are returned to Britain.
Veterans' Day was first celebrated in Britain in 2006. The annual event was renamed Armed Forces Day in 2009.