Huhne partner Carina Trimingham in privacy case appeal bid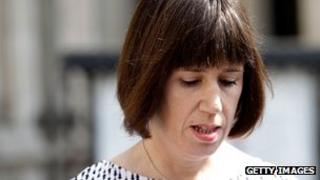 The partner of MP Chris Huhne has launched an appeal after the High Court rejected her privacy and harassment claim against Associated Newspapers.
Carina Trimingham's legal team has filed an application for permission to appeal to the Court of Appeal.
She sued over 65 "highly unpleasant and hurtful" articles which appeared in the Daily Mail after her relationship with the ex-Lib Dem minister became public.
The judge rejected her claim, saying she was not a "purely private figure".
Her lawyer Charlotte Harris confirmed the appeal bid had been launched.
Ms Trimingham had claimed the articles, which appeared after her affair with Mr Huhne became public in June 2010 and he left his wife of 26 years, amounted to a breach of her right to privacy and harassment under the Protection from Harassment Act.
Her counsel Matthew Ryder QC told the court the articles had made constant and gratuitous reference to her sexuality and previous relationship with another woman, with whom she entered into a civil partnership in 2007.
'Privacy limited'
Associated Newspapers argued there was an important public interest. Its QC, Antony White, had told the High Court how Ms Trimingham was "not a shrinking violet but a seasoned political journalist" who "gave as good as she got".
Mr Justice Tugendhat rejected Ms Trimingham's claim, saying her "reasonable expectation of privacy has become limited" because of both her relationship with Mr Huhne and what she herself had disclosed in the past.
Ms Trimingham said the ruling could become a "blueprint for bullies and bigots".
Her appeal will argue that the court was mistaken in concluding that she would not have been distressed.
It also claims the judge gave "excessive deference" to Associated Newspapers' view of its right to publish references to Ms Trimingham's sexuality.
On the issue of privacy, it will argue the judgement suggests that anyone who works in contact with public figures even if they have no personal public profile cannot be regarded as a private individual.