Anglican agonies over women bishops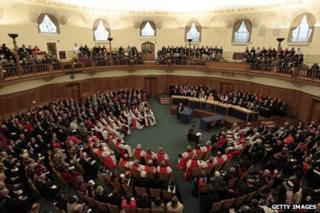 The thorny issue of women bishops may finally be decided at the Church of England general synod which gathers at the end of the week. BBC Radio 4's Charlotte Smith, a regular church-goer herself, samples the views of clergy and congregations.
The Church of England is in crisis, again. Because of women, again.
For those of us who have not been paying close attention, the current row over women bishops may seem a bit odd.
Surely when women were first ordained back in the 1990s the Church sorted this out? But no, it fudged it, and so now faces a really tricky situation, and one which even this organisation surely cannot swerve?
The issue was certainly enough to bemuse the 10 and 11-year-old girls at a recent schools day at Winchester cathedral.
They were not really planning careers in the church. Singing and doctoring seemed better options to them.
But they could not understand why women could be vicars but they could not be bishops.
Some of the volunteers working in the cathedral were equally mystified. "If women are made priests, inevitably, if they're good, they should become bishops," one said.
'Equal but different'
But there are groups within the Church of England who are firmly opposed to women bishops - traditionalists and evangelicals.
"The bible very clearly teaches that men and women are totally equal but that their roles are different," says Andrea Trevenna from the evangelical wing, who oversees women's bible teaching at a thriving church in Sevenoaks.
"A man is the head of the family and head of the Church, and women can't be either."
Andrea acknowledges this is a difficult sell in a modern world, where women are leaders of schools, businesses and countries. But, even if it is inconvenient, she says, "It's the truth."
For Anglo-Catholic traditionalists like Father Martyn Neale of Holy Trinity church in Farnborough, it is a question of sacramental assurance.
"When you receive a sacrament, particularly Holy Communion or ordination, you have to be absolutely certain that the person who celebrates that sacrament is a priest or a bishop," he says.
"As far as a woman bishop ordaining a man goes, of course you'd have doubts about the validity of her orders as a bishop and inevitably have doubts about the validity of the man she ordains."
'Stupid situation'
Many Anglicans worry about the damage being done to the image of the Church of England, which only hits the headlines with rows over gay marriage or women bishops.
At Holy Trinity and St Mary's in Guildford, their female curate is about to be ordained and the local congregation were passionate about the need to move forward.
"It is absolutely ridiculous," one churchgoer told me. "It looks like we are stuck in the 1740s."
"My daughter loves this Church because of our attitude towards women but says she is not going to come back to the Church of England 'til they actually get this sorted out."
The Church had got itself in "a stupid situation", another told me.
After years of discussion about women bishops, draft legislation now allows for women as bishops, but says that a parish could request a male bishop if it wanted.
"The dioceses accepted it almost unanimously - 42 out of the 44," says April Alexander. She has campaigned for women bishops and is a member of the synod, so will be voting on the issue when it meets next week.
Impossible to reconcile?
But at the last moment, the House of Bishops added amendments which have succeeded in uniting the Church - now everyone dislikes the legislation.
A parish could ask not just for a male bishop, but for one who matches their particular theological convictions. So not just a woman, but also a man who had ordained women, could be avoided.
For April Alexander this simply undermines the authority of any woman bishop.
"It is a concept that we find difficult to take anyway... but to have it on the face of legislation forever… feels by much a step too far," she says with tears glistening in her eyes. With a heavy heart, she may have to vote against.
In most other settings this sort of rule would be illegal, as it clearly discriminates on the grounds of gender. But there are women in the Church on both sides of the debate, including those who are fighting for the right to be discriminated against.
It is hard to see how the circle will be squared. Would it be more honest and brave for the Church to simply say: "We're going to have women bishops and, if you do not like it, you can leave."
That was what was wanted by most of the Church accepts the Reverend Claire Edwards, Canon of Canterbury Cathedral.
But she argues it was right and reasonable to be generous to those who objected.
"Women and those supportive of women's ministry have been incredibly generous," in the accommodations that have been made, she says.
Others believe the compromise has been extended too far. But no one I have spoken to was clear about what they were going to do, whatever way the Synod vote goes.
The different views may be almost impossible to reconcile, but if there is a fudge to be had, they will find it.
BBC Radio 4's Charlotte Smith presents The Frock and The Church on Radio 4 at 13:30 BST on Sunday 1 July