Newspaper review: Bank mis-selling dominates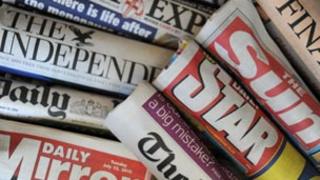 The Guardian reports that the mis-selling of financial products to small firms by leading high street banks has caused "outrage" among business groups.
It says the Institute of Directors and bodies such as the CBI think their members were "fleeced", but adds many executives from the era of risks have now gone.
Light-touch regulation has damaged the City's reputation as a leading financial capital, says the Times.
The paper calls for authorities that can police white collar crime.
Euro salvation
Many papers report on the Brussels deal to try to stabilise the eurozone.
By agreeing to demands for direct bail-outs of ailing banks, German Chancellor Angela Merkel has been forced into concessions she does not honestly think will work, the Daily Telegraph claims.
The Financial Times says the fact that a euro banking union was agreed could be the single currency's salvation.
The Guardian says Mrs Merkel may have lost a battle but has not lost the "war" as Germany will ensure it writes the rulebook on the new union.
Passing out
The Independent understands that as many as three million people who use Freeview digital television will face £200 bills to install a new device.
It will be required to stop a signal being lost or interference occurring on the new 4G mobile network, it says.
New meaning has been given to a passing out parade, with the Daily Express among papers showing photos of newly-trained officers fainting in London.
They were trying to stand to attention in temperatures of 21C.
'Sole custody'
Most of the tabloids lead with news of Hollywood actor Tom Cruise's divorce or pop star Adele's pregnancy.
The Sun says the singer and her boyfriend Simon Konecki are "very excited" by the baby news.
While the Daily Mirror claims Cruise's third wife Katie Holmes is seeking sole custody of their daughter Suri.
The Daily Mail says they have been leading "separate lives" and points out that the split follows Cruise's failed relationships with actresses Mimi Rogers, Nicole Kidman and Penelope Cruz.