Newspaper review: EU referendum talk analysed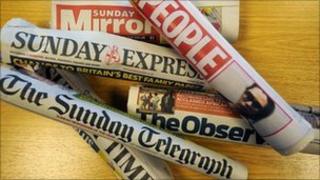 Several papers turn their attention to Britain's future role in Europe.
The Sunday Telegraph says David Cameron has "opened the door" to the prospect of a referendum on Europe in what it describes as a "landmark move".
But it says he promised a referendum on the Lisbon Treaty only to do a U-turn.
For the Mail on Sunday, the suggestion that the prime minister is moving closer to the idea is further evidence he is turning his attention to life after the coalition.
Bankers' 'greed'
"Greedy, Shoddy and Deceitful" is the verdict of the Independent on Sunday on the latest banking scandal centred around the attempted manipulation of the inter-bank lending rate.
It says events prove not all organised criminals carry violin cases.
The Sunday Mirror believes bankers must "pay the price for their greed" and joins the People in calling for a far-reaching inquiry into the industry.
But the Sunday Times says criminal prosecutions not more words are needed.
Army cuts
The head teacher charged with encouraging independent schools to sponsor state academies tells the Observer of his frustration at the unenthusiastic response.
Anthony Seldon, master of Wellington College in Berkshire, says many public schools are "blind" to the value of bringing pupils of different backgrounds together.
The Army's most senior woman is to resign, the Sunday Telegraph reports.
Brig Nicky Moffat is said to be unhappy about the scale of cuts to troops.
High flyer
According to the Sunday Express, the Wimbledon tennis tournament's very own bird of prey, a hawk named Rufus, has been stolen from his owner's car.
The hawk's handler says he and Rufus had developed a bond of trust.
Finally, the Mail has news of plans for what could be Devon's answer to the Angel of the North, a giant statue of a naked pregnant woman, holding a sword.
It is the brainchild of artist Damien Hirst, who wants to erect it in a car-park in Ilfracombe.