Prisoners lose wage levy test case at High Court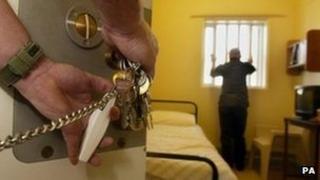 A legal challenge by two prisoners that a levy on their wages was too high has been rejected by the High Court.
Ministers brought in rules in September allowing prison governors to deduct 40% towards Victim Support from paid work in the community above £20 per week.
The rules were challenged by a 40-year-old male prisoner with an indeterminate sentence and a female prisoner jailed for four years.
Justice Secretary Ken Clarke said he was "delighted" by the ruling.
'Widespread concern'
The male inmate said the rules interfered with his right to protection of property.
He said his earnings would be cut from £210 to £140 each week.
The female prisoner claimed the rules would disproportionately affect women prisoners.
The male and female inmates were referred to in court as S and KF respectively.
Their lawyers argued that the payments were "disproportionate" and said there was "widespread concern" about the levy.
Kate Markus, representing S, said Mr Clarke should have allocated a portion of the 40% levy to help the inmates rebuild their lives as well as help victims.
Hugh Southey QC, for KF, said she had decided not to seek work outside prison because of the impact of the levy on her potential earnings.
'Contribute for crimes'
The High Court dismissed both legal challenges.
Mr Justice Sales said Mr Clarke had given "careful consideration" to the policy and there was no evidence to show "any significant differential impact" on female offenders.
Neither prisoner was named.
The test case affects inmates working outside prison as they prepare for their release.
Mr Clarke said: "The Prisoners' Earnings Act is the start of government getting the balance right - forcing prisoners to take responsibility for their crimes and helping victims to recover through the funding of these vital support services.
"In the first six months, nearly £400,000 has been raised through the Prisoners' Earnings Act for Victim Support.
"I'm delighted that this ruling means that offenders will continue to contribute to make amends for their crimes."
The question of an appeal to the Court of Appeal will be considered at a hearing later this month.