Judge rejects terror suspect's marriage claim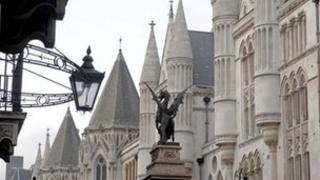 Claims by a terror suspect that "disproportionate" surveillance was preventing him finding a wife have been rejected by a High Court judge.
The man, 24, had argued security measures imposed last January were too restrictive for him to get married.
Mr Justice Mitting said they were the unavoidable consequence of his actions.
The British citizen, known as AM, is alleged as a teenager to have been associated with the foiled 2006 plane bomb plotters, but was never arrested.
His case challenged the legality of Home Secretary Theresa May's decision to impose wide-ranging restrictions on him under the Terrorism Prevention and Investigation Measures Act.
'Compelling case'
Known as "T-Pims", the measures replaced previous restrictions imposed on him for four-and-a-half years under government control orders.
His lawyer, Dan Squire, told a recent hearing his client had been subjected to the longest surveillance period of any terror suspect.
Mr Justice Mitting accepted the security service restrictions had had a chilling effect on the man's social life and personal development.
But he rejected the challenge and ruled the measures - except one - were proportionate and necessary.
He said there was a "compelling case" AM, who lives in northern England, was "willing to martyr himself and to kill large numbers of people in 2006".
The suspect was told he had yet to convince the court he had renounced his previous alleged views.
He had not told the truth about the purpose of a trip to Oman in April 2007, or the purpose of lengthy trips to Pakistan in 2004 and 2005, aged 16 and 17, the court heard.
It was reasonable to believe he had received terrorist training during the latter trips, the suspect was told.