Olympic torch: Torchbearer carries brother's ashes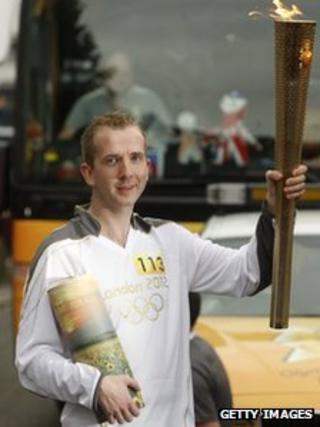 A man paid tribute to his brother by carrying his ashes on day 50 of the torch relay which travelled 145 miles from Chelmsford to Cambridge.
Towards the end of the day's relay in Cambridge, Mark Reynolds ran in place of his late brother David, who had been nominated to be a torchbearer.
Other torchbearers on the day included celebrity chef Jamie Oliver and former sprinter Iwan Thomas.
Earlier the flame rode the rapids at the 2012 Olympic canoe slalom venue.
Mr Reynolds explained why he wanted to pay tribute to his brother, who died on 2 February, in a torchbearer's profile document provided by London 2012 organisers Locog.
He said: "I am running in his honour. He makes everybody who met him laugh and smile, he lived his life to the full without complaint.
"This was David's story: "I have duchenne's muscular distrophy and have an electric wheelchair which helps me get about and keeps me independent. I won a race in sports day in it.
"I enjoy spending time with people and talking to people. I love being with my friends, I enjoy going out doing things, I like to make people smile.
"My dream would be to drive around in an ice cream van giving free ice creams and making everyone happy and meeting people.
"I like helping people - I have my own first aid kit and I'm not afraid to use it! People say that I am always smiling and happy. Thank you for reading."
Healthy eating
Chef Oliver, 37, who carried the flame just before 12:40 BST, in the village of Newport, close to Clavering where he first cooked at his parents' pub, was chosen for inspiring people to enjoy spending more time in the kitchen and to start growing their own food.
Speaking to BBC Essex before he took the flame, he said: "I'm actually running past my old school and finishing near the local pub that we used to escape to, so it's sort of ironic really, but nice. I'm just gonna ham it up and rinse it for every single step.
"They gave me a bunch of choices and I sort of thought it would be nice to do it back home being a bit of a local face.
"Also I don't get any grief around here, so it's nice to do something for your local neighbourhood."
His Jamie Oliver Foundation is a charity which aims to empower, educate and inspire people to love and enjoy good food, as well as fight against obesity.
Before Oliver's big moment, the relay visited the Lee Valley White Water Centre, which was the first London 2012 venue to open to the public before the Olympics and will be the first to reopen after the Games.
There the British men's rafting team safely carried British junior team canoeist Zachary Franklin and the torch down the rapids.
Bicycle incident
There was an incident in Haverhill where the Metropolitan Police said at 15:09 BST: "A male on a bicycle attempted to enter the security area around the torchbearer.
"The security team prevented him from gaining access to the torchbearer and the male fell off his bike," a spokesperson said.
"He immediately got back on his bike and left."
Day 50's relay got under way at 06:55 BST, when Moesha Howard carried the flame from Ruskin University.
Miss Howard, 15, is an up-and-coming hurdler who won gold at the 2011 England Championships for 75m hurdles, achieving a new personal best of 11.0 seconds which ranked her second in the UK.
Soon afterwards the relay was delayed for 20 minutes near Chelmsford when two motorbikes, unconnected to the relay, crashed in front of the convoy.
Both riders came off their bikes and were treated by the convoy doctor. Ambulances and a fire engine were called before the convoy was able to proceed but the A414 was blocked for a while.
A torch relay spokesman said: "The Olympic torch relay convoy stopped temporarily on the outskirts of Chelmsford to allow treatment to some people who had been involved in an accident on the opposite carriageway.
"It did not involve any people or vehicles from the convoy."
An extra runner was included in Waltham Abbey after she missed out on her scheduled slot during day 49.
Hannah Aygeman-Prempeh was due to carry the flame in her home town of Basildon, Essex, but the preceding torchbearer ran past her and because of the large crowds the mistake went unnoticed until it was too late.
At Bury St Edmunds Leisure Centre torchbearer Alysia McIntyre, 21, took the flame for a lap of the athletics track.
Other torchbearers to have taken their turn included:
Former British swimmer Suki Brownsdon, who competed at four Olympics - the first when she was just 14.
Former Great Britain hockey player Bernard Cotton, who played at the 1972 Games and went on to be GB's assistant manager at the 1988 Olympics, where the team won a gold medal.
David Morgan, one of the most successful British weightlifters of all time - a five-times Commonwealth Games champion who also represented GB at three Olympics, will take the flame in Cambridge.
Paralympics hopeful Brian Alldis - who got into sport having been encouraged by Tanni Grey-Thompson to try athletics at a special session - carried the flame later in the day.
The 26-year-old was a wheelchair racer before becoming a hand cyclist.
At 18:50 BST, former 400m sprinter Iwan Thomas ran the final leg of the day and lit the cauldron at the evening celebration at Parker's Piece.
The Welshman won silver in the 4x400m relay at the 1996 Olympic Games in Atlanta, and gold in the same event at the 1997 World Championships.
He told BBC Radio Cambridgeshire how it felt to be a torchbearer.
"Before I even carried it, [hearing] the stories on the bus, I felt I shouldn't even be there," he said.
"There were some great stories of people who have done some fantastic things for charity. I'm really humbled and honoured to be here. This is one of the proudest moments of my life.
"I was more nervous about this than competing," he added.
"Because when you train you're obviously ready for what you do, you train every day. I've never run with a torch. I was really worried I would slip on the mud, but luckily I didn't."
A total of 8,000 people will carry the flame during its 8,000 mile, 70-day journey to the opening ceremony of the Olympic Games in London on 27 July.