Wimbledon: Dunblane proud of its local hero Andy Murray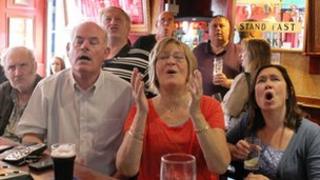 Dunblane is an understated place, but people here are proud of their local hero and willing him on from afar.
There are Andy Murray masks in plenty of the windows and the local butcher has Wimbledon sausages for sale. The secret ingredient this year - strawberries.
Murray started playing tennis in the town when he was three. He won his first tournament when he was five.
On Friday afternoon about 30 junior players and their parents were at the local tennis club where he used to play to watch his semi-final clash with Jo-Wilfried Tsonga on television.
The junior players were showing their support with T-shirts saying "Game, Set, Murray".
Just a short distance down the road in the Village Inn they were dishing out the traditional Wimbledon dish of strawberries and cream to their regulars to get them in the mood.
One of those regulars is Gordon Mann.
"Dunblane is proud of Murray," he said. "Many people here know him, and everybody wants him to win."
Dunblane of course had been here before. This is the fourth time the British number one has made it to the semis.
Mr Mann says there has been so much hype here the last two or three years that most people here are now more of a mind to watch and wait and see.
There has been cheering yes, and also a few groans.
But the atmosphere is more subdued than in previous years.
Mr Mann, however, believes that will change come Sunday when "every single point will get cheered on".
His brother Derek Mann agrees adding, "If Andy Murray gets to the final you'll hear the lions roar. He'll put Dunblane and Scotland on the map".