Libyan elections hailed by William Hague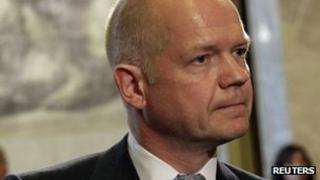 Libya's first free national election for decades is "a historic step towards freedom and accountability", William Hague has said.
The foreign secretary said the vote was a "landmark moment" and a "milestone" towards peace and stability.
But Mr Hague condemned "isolated" violence, including a fatal shooting near a polling station in Ajdabiya.
Libyans went to the polls to choose a temporary assembly which will then select a cabinet and a prime minister.
Mr Hague said of Saturday's vote: "Today is a landmark moment - for the first time in over 42 years Libyans have exercised their democratic right to choose their leaders and have taken a historic step towards freedom and accountability.
"I congratulate the Libyan authorities for their rapid preparations, supported by the United Nations support mission in Libya, to organise these elections in such a short space of time."
He said security incidents appeared isolated and were an attempt by a minority to use violence to deny others their opportunity to exercise their right to vote.
"We strongly condemn such attempts but this should not detract from what is already a remarkable achievement," Mr Hague said.
He said the UK had played a role in supporting the elections, including providing advice on election security.
"Just one year ago, Libyans were still fighting against a brutal tyrant," he said.
'Challenges remain'
"Following over 40 years of misrule, challenges remain, including security, human rights, particularly the treatment of detainees, and the need to make further progress with restarting the economy and building government institutions.
"But today marks a further milestone towards realising Libyans' ambitions for a peaceful, stable, prosperous and democratic country.
"The UK government shares these ambitions and will continue to support the Libyan people in realising them."
Voters have been choosing their first government since Col Muammar Gaddafi came to power in 1969.
Few Libyans remember their last national vote in 1965, when no political parties were allowed.
Even fewer took part in the country's first parliamentary elections in February 1952, shortly after independence.
About 2.9 million people were eligible to vote for the 2,600 candidates standing for the new General National Congress, less than a year after Col Gaddafi was toppled after an eight-month uprising.