Williams warns Church 'frustrated' over women bishops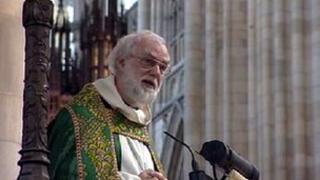 The Archbishop of Canterbury has said many in the Church of England are "profoundly frustrated" as it struggles over the issue of women bishops.
In a sermon in York Minster, Dr Rowan Williams stressed to the opposing sides "my neighbour knows that her or his joy is what most deeply I care about".
The Church's ruling synod has outlined plans to exempt traditionalists from serving under women bishops.
But it has said it will now seek to delay Monday's vote on the change.
In his sermon, Dr Williams added that the Church must not become "depressed" over its problems.
He said: "Most of us are frustrated with the structures of the Church and are feeling that the way in which we are doing our business is at the moment preventing us from doing what we actually want to do as a Church."
He said that the right way forward was not always "crystal clear".
'Second class'
The Church of England has confirmed that its steering committee for the draft legislation on introducing women bishops would seek permission adjourn the final approval debate.
This would allow the bishops to reconsider the amendment agreed in May.
Largely in order to secure the support of moderate conservatives in the synod who are sympathetic to traditionalists, senior bishops amended the legislation to ensure it would also give such parishes the right of access to a male bishop who shared their beliefs about women's ordination.
But some liberal Anglicans feel this would render women "second class" bishops and indicated they may vote to reject the legislation, along with conservatives long opposed to the change.
BBC religious affairs correspondent Robert Pigott says a postponement of the vote appears increasingly likely to avoid an embarrassing and damaging rejection of the legislation.
Emergency meeting
Members of the synod have been meeting in York since Friday.
An emergency meeting of bishops took place on Saturday following lobbying from campaigners for women bishops.
The amendment's opponents complain it would enshrine discrimination, and have used a flurry of letters and petitions to lobby synod members to adjourn the debate so it can be removed.
If bishops support an adjournment it is highly likely to succeed, our correspondent says, with the final vote postponed to a new synod in November.