Newspaper review: Papers hail Murray despite defeat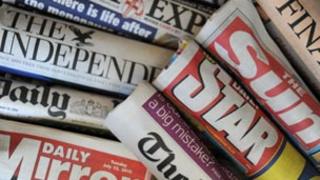 The Daily Mail has praise for both Andy Murray and the man who defeated him in the Wimbledon final, Roger Federer .
The paper describes the Swiss as "a master of the universe, the tennis equal of Pele or Muhammad Ali".
As the Times puts it, Murray made the major error of being born when he was - pitting him against three other players of undisputed greatness.
The Daily Mirror describes Murray as "gritty" and "gutsy", the Independent says he is a "credit to his country".
Speech praised
The Guardian says the epic drama at Wimbledon was played out in front of a Royal Box that contained so many celebrities it resembled the pages of Hello! magazine brought to life.
The Scotsman praises Andy Murray for his "gracious" speech after the match.
According to many writers, that has helped him capture the heart of the nation.
Jim White in the Daily Telegraph says the British number one showed he was "warm, generous and unaffected".
Weather fear
Concern for the UK's next major sporting event is raised by the Daily Mirror .
It says that a month of rain is set to make the start of the Olympics a wash-out. The Sun picks up on these fears .
It has a picture of the park-and-ride area due to cater for 18,000 fans coming to see the Olympic sailing events at Weymouth in Dorset.
Flooding meant the car park disappeared under a foot of water after a month's worth of rain fell in 14 hours.
Bank inquiry
The Financial Times reveals that the EU is planning action to tackle rigging of the Libor inter-bank lending rate.
Apparently, Brussels is proposing to make it illegal across the EU to manipulate market data.
Meanwhile, the Independent has more questions about the effectiveness of a parliamentary inquiry into the scandal.
Senior Treasury Committee member Andrea Leadsom claims MPs were "useless" when they came to question former Barclays chief executive Bob Diamond.