Leveson Inquiry: Lord Black details 'robust' press plan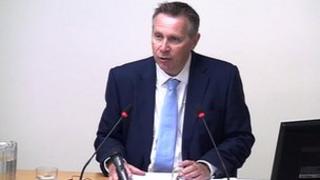 Statutory regulation of the press would run the risk of getting "stuck in parliamentary aspic", the Leveson Inquiry has heard.
In the fourth module of his inquiry, Lord Justice Leveson is seeking views on press policy and regulation.
The chairman of the funding body for the Press Complaints Commission, Lord Black, recommended a self-regulatory system with "muscular powers".
He said statutory regulation could face "constant legal challenge".
Lord Black is chairman of the Press Standards Board of Finance (PressBof), which is the co-ordinating body for the newspaper and magazine publishing industry's trade associations.
His written submission recommends a new body with the power to launch investigations and levy fines of up to £1m.
The plan would preserve self-regulation and rely on legally enforceable contracts to bind publishers to the new system and ensure funding.
Under the PressBof proposals:
Editors and publishers would have to give annual reports on their compliance with a code of practice and steps taken in response to any adverse adjudications from the regulatory body
The regulatory body would have enforceable powers to investigate serious breakdowns in ethical standards, governance or in respect of the code
It would have powers to view documents and call for witnesses during an investigation
In cases of serious or systemic ethical failure, it would have powers of financial sanction
In his oral evidence, Lord Black said PressBof was aiming to "look at the problems of the past, work out ways that we can improve them in future, produce a tough, modern system of regulation that is fit for a digital age - and to do so based on contract without the need for any form of statutory intervention".
"The system that we're proposing is an extremely tough system, it's an extremely robust system," he said.
"We've gone a very long way to proposing a regulator with muscular powers of enforcement."
'Broad support'
Lord Black said he had philosophical objections to a statutory system of regulation that related "to the nature of a free press", as well as practical objections.
He said the media was "a very, very fast-moving industry" and questioned whether a statute would be able to keep up with the degree of change within it.
"These things get stuck in a degree of parliamentary aspic," he said.
A statutory system would also import "considerable legal challenge", he said. "It would mean that there was constant legal challenge to the legal decisions of a regulator."
He said, under PressBof's proposed system, publishers would instead willingly enter a contract and then be "bound by significant terms into a regulator with robust powers".
He said the framework that the PressBof had so far outlined had "received very broad support" across the industry.
Another chance?
Later on Monday, PCC chairman Lord Hunt appeared before the inquiry.
The PCC confirmed in March that it would close and be replaced by a transitional body until a new system of press regulation was established.
Lord Hunt said he also opposed statutory regulation, instead envisaging "an internal regulatory system, policed, monitored and enforced by a professional oversight body".
He said that the press had "come a long way" in its thinking to be considering the establishment, for the first time, of a regulatory body.
"The key test here is the test, will this restore trust and confidence on the part of the public?" he said.
Counsel to the inquiry Robert Jay QC asked Lord Hunt whether he thought the public was prepared to give the press "another chance" to regulate itself.
"As long as it's a free and responsible press," Lord Hunt replied. "Not just a free press, but a press that accepts its responsibilities."
He went on: "I don't think we need a cumbersome, slow, expensive press law. We need a professional oversight [body] monitoring and enforcing the standards that I believe the vast majority of journalists accept."
In his evidence to the inquiry in January, PCC head Lord Hunt had said a new regulator should have two arms: One to deal with complaints and mediation, and the other for auditing standards and compliance.
The fourth module of the inquiry is seeking recommendations for a "more effective policy and regulation that supports the integrity and freedom of the press while encouraging the highest ethical standards".
Earlier, Lord Justice Leveson said he had asked Met Deputy Assistant Commissioner Sue Akers to provide updates on the progress of police inquiries into phone-hacking allegations.
"I will want to be aware of the width and breadth of her inquiries so as to ensure that I have captured as much of that evidence about the practices of the press as possible," he said.
Scotland Yard is conducting three investigations relating to the phone-hacking scandal.
Operation Weeting is looking into allegations of hacking into private voicemails, Operation Elveden is examining allegations that journalists made "inappropriate" payments to police, and Operation Tuleta is investigating computer hacking.