Keith Vaz 'appalled' by Heathrow Airport passenger queues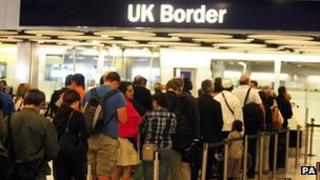 Senior Labour MP Keith Vaz has said he is "appalled" by the length of customs queues at Heathrow, after paying a spot visit to the airport.
The chairman of the Commons Home Affairs Committee said passengers had been waiting up to an hour, even though the target was 45 minutes.
Mr Vaz, who will question immigration minister Damian Green on Tuesday, said half the desks were "not opened".
But the UK Border Force said the MP was "incorrect" about queues and staffing.
Mr Vaz, whose committee is carrying out an inquiry into the work of the UK Border Agency and Border Force, visited Terminal 4 at 07:00 BST on Monday.
'Piling up'
He said: "I was appalled by the length of queues in the immigration hall this morning.
"It is now two months since the immigration minister promised additional resources and better management.
"The worst aspect was that half of the immigration desks were simply not opened, even though the Border Force had prior knowledge of all flight arrivals.
"This creates additional security pressures with luggage piling up in the baggage hall.
"We look forward to hearing the immigration minister's explanation for this tomorrow."
Queues at Heathrow Airport were more than an hour for non-EU passengers, despite a 45-minute target, when Mr Vaz visited Terminal 4, his spokeswoman said.
But a Border Force spokesman said: "Keith Vaz is incorrect. Queues at Terminal 4 remained under an hour at all times. Staff were quickly redeployed and more than 80% of desks were open to process passengers as quickly as possible."
A statement from the organisation said: "Border Force is fully prepared to cope with busy periods over the summer and during the Olympic period - and will be implementing well-rehearsed plans."
On Sunday, shadow home secretary Yvette Cooper said many of those forced to wait in queues were Olympic athletes arriving ahead of the opening ceremony on 27 July.
A leaked memo reveals that tourists arriving from outside the European Economic Area are repeatedly waiting longer than the 45-minute target time to pass through passport control.
'Enough staff'
Meanwhile, European visitors are waiting up to 40 minutes, when getting through checks should take less than 25 minutes.
But Mr Green said government action had "resulted in real improvement over the last two months - including consistently hitting our targets on UK and EU passengers and reducing waiting times across the board".
He added: "But we're not complacent about some long waiting times, which is why this weekend we have increased staffing numbers by more than 50% at Heathrow to respond to large passengers volumes.
"And by the start of peak Olympic arrivals in less than 10 days, there will be up to 500 additional staff on our rotas across the country. This includes enough staff at Heathrow to cover every desk during busy times.
"Additionally we have special lanes in place designated to Olympic athletes to enable them to pass through the border without delay."