Terror arrests: Met given more time to question woman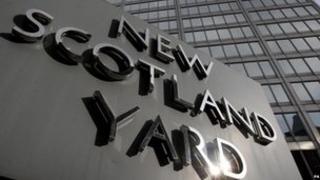 Police have been granted more time to question a 22-year-old woman arrested in east London in connection with an ongoing counter-terrorism operation, the Metropolitan Police has said.
She was held on Saturday on suspicion of the commission, preparation or instigation of acts of terrorism.
Police said they had obtained a warrant of further detention until 13 July.
She is one of seven people arrested in the operation. A 30-year-old woman was released without charge on Saturday.
The Met Police said a warrant of further detention for the 22-year-old woman was granted on Sunday at Westminster Magistrates' Court.
She was arrested at a property in Hackney during the early hours of Saturday.
The 30-year-old woman was released without charge on Saturday, while five others remain in custody at a south-east London police station.
Warrants of further detention were granted by magistrates on Friday for the five men, police said. The warrants expire on 12 July.
It is understood the arrests relate to a possible plot involving Islamist extremists, with potential UK targets.
The Metropolitan Police said the operation was not connected with the Olympics or Paralympics.