Rich elderly should lose benefits, says David Cameron ally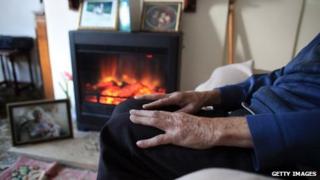 Wealthy pensioners should stop receiving free bus passes and prescriptions, an ally of the prime minister is expected to argue later.
In a speech, Conservative MP Nick Boles is set to urge an end to universal benefits such as winter fuel allowance and free public transport.
He wants such benefits to be means-tested after the next general election, in 2015.
David Cameron has said he will not touch the benefits in this parliament.
However, last month Work and Pensions Secretary Iain Duncan Smith suggested that commitment would be reassessed in the run-up to the election.
'Uncomfortable choices'
At an event organised by the Resolution Foundation think-tank, Mr Boles is expected to argue that older people must shoulder their fair share of spending cuts.
He will suggest the introduction of means testing for universal benefits such as free television licences for the over-75s is a viable approach.
Mr Boles will describe a need to "find further savings from the welfare budget" to "achieve stability in our public finances and make crucial investments in improving productivity and competitiveness".
"If we are going to protect spending on pensions - as we should - equity between the generations requires that these cuts cannot only fall on adults of working age," he will say.
Mr Boles is also expected to say: "We need to acknowledge now that we will not be able to continue the protection of these other benefits for better-off pensioners after 2015."
Ahead of his speech, Mr Boles told BBC Two's Newsnight: "We live in an age when we face some really, really uncomfortable choices.
"Politicians have to be straight with people. None of us want to do any of the stuff that I have talked about. We would all love the ship to go rolling on as it has, people getting better off and the state to go on providing lots of stuff."
Mr Boles said it was "not possible" and "not honest" to believe that the current approach to benefits was sustainable where elderly people were concerned.
Geraldine Bedell, editor of Gransnet - a magazine for grandparents - said the problem was in deciding the "cut-off" point when determining eligibility for benefits.
"We know that whenever you have means testing you get a cliff edge and very often the wrong people fall off the cliff," she said.