Newspaper review: Papers mull over Tory rebellion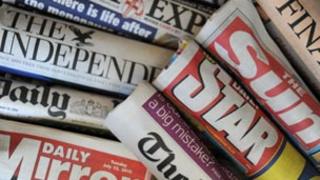 There is plenty of coverage of the Conservative rebellion on the proposals for the future of the House of Lords.
The Times has the headline "Coalition creaks as rebels flex muscles".
It says a mass revolt by Tory MPs threatens to destabilise the coalition.
According to the paper, David Cameron will sit down with Nick Clegg to try to plot a new phase of the coalition after an expected result that Lib Dems will regard as a breach of faith by the Tories.
The Daily Mail says a heavy defeat would put Mr Cameron under intense pressure to tell Mr Clegg that the legislation must be abandoned.
The Independent says a close ally of the prime minister will propose better-off pensioners should lose their winter fuel payments, free prescriptions, bus passes and TV licences.
It says the call by the Conservative MP for Grantham and Stamford, Nick Boles, is a clear sign Mr Cameron is moving towards cutting benefits for some pensioners from 2015.
According to The Guardian , the British financial services industry spent £92m last year lobbying politicians and securing a string of policy victories.
An investigation by the Bureau of Investigative Journalism has revealed what the paper calls the firepower of the City's lobbying machine.
The Daily Telegraph focuses on the findings of a study that 1,000 stroke victims each year die unnecessarily or suffer serious disabilities because of the poor standard of hospital care at weekends.
The Daily Express looks to the world of medicine again, to bring news of a treatment for arthritis it says could end years of pain for sufferers.
The Daily Mirror reports on the divorce settlement for the Hollywood actor, Tom Cruise, and his wife, Katie Holmes.
A number of papers are intrigued by the appearance of what they call a mysterious young woman at the side of North Korea's new leader, Kim Jong-un.
The Guardian says her appearances have become front page news in South Korea.