More disruption as flooding continues in Britain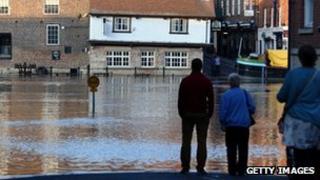 Flood disruptions have continued on Tuesday as more rain hits areas already waterlogged by recent downpours.
Residents will see spells of more heavy rain in the next few days, with the ground and watercourses affected by earlier deluges.
The UK's biggest agricultural event, the Great Yorkshire Show, has been cancelled due to "adverse weather".
The Environment Agency (EA) has nine flood warnings and 28 flood alerts in place in England.
The worst-hit areas could see up to 60mm of rain on Tuesday, forecasters have warned.
A flood warning means immediate action is required, and a flood alert means people should be prepared for possible flooding.
The Scottish Environment Protection Agency has issued flood alerts for two regions: Edinburgh and Lothians, and the Borders.
The Met Office has issued yellow rain warnings - urging people to "be aware" - for south-eastern parts of Scotland and much of northern, central and eastern England.
"The public should be aware that locally large amounts of rainfall may bring a risk of surface water flooding, as well as difficult driving conditions at times," the warning stated.
And there is a higher, amber rain warning - to "be prepared" - for Wednesday centred on Edinburgh, with up to 50mm of rain possible.
Saturated ground
BBC Weather forecaster Louise Lear said: "The heaviest of the rain so far today has been in Shawbury, Shropshire, and Keele, Staffordshire, with 18.4mm falling since midnight to 09:00BST.
"Central, eastern and northern England will continue to see heavy showers or longer spells of rain throughout the afternoon with 20-30mm of rain likely, and isolated 40mm possible.
"Persistent rain in eastern Scotland will continue, turning heavier through the night. The best of the weather today will be in Wales and south-west England with cloud breaking up and sunny spells likely."
She added that cool and showery conditions would continue on Wednesday with persistent rain clinging to eastern England and south-east Scotland.
Rivers are already very full and the ground saturated, weather experts say.
The A35 in Dorset was closed in both directions on Tuesday morning between Monkeys Jump Roundabout in Dorchester and the Longland's Lane junction in Winterbourne Abbas, after flooding.
Parts of the A38 in Derbyshire were also closed due to floods.
A Stock Aitken Waterman anniversary concert that would have reunited Kylie Minogue and Jason Donovan on stage in London's Hyde Park on Wednesday has been cancelled because of unsafe ground following recent bad weather.
Organisers of the Great Yorkshire Show, in Harrogate , cancelled the event on Tuesday evening. It was due to continue until Thursday.
It is the first time the show - which costs £2.2m to stage - has been cancelled due to bad weather. The event has only previously been cancelled due to foot and mouth disease.
Bill Cowling, the show's director, told BBC Look North the decision was extremely difficult: "The primary reason [for the cancellation] was getting cars in and out of the car park.
"We have a history of looking after our exhibitors and we'll continue to do that."
On Monday, parts of the Calder Valley in West Yorkshire suffered their third severe flood in just over a fortnight.
Hebden Bridge in Calderdale also suffered flash flooding on Monday , with roads left impassable and the local library evacuated after a three-hour deluge which dumped 40mmm of rain - a month's average - on the town.
Dorset's Olympic Board has expressed fears it may have to amend the route of the Olympic torch making its way through the county from Thursday to Saturday.
About 40 residents of a mobile home park were moved to hotels on Monday by Bournemouth Borough Council owing to a flood threat from the nearby River Stour.