Leveson Inquiry: Judge has 'no truck' with censorship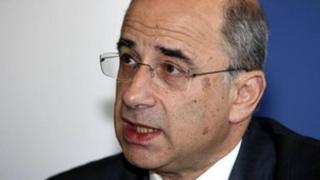 Lord Justice Leveson has told the chairman of the Press Complaints Commission he has "absolutely no truck with censorship".
He was responding to comments by Lord Hunt, who said statutory regulation of journalists could lead to censorship.
Lord Hunt also said the taxpayer should not finance regulation of the press.
Meanwhile, Lord Justice Leveson said he may hold a special hearing in August to examine whether Associated Newspapers journalists broke data-protection laws.
Lord Hunt told the inquiry, in a witness statement: "I do... have genuine and profound misgivings about directly involving the state - ministers, civil servants or even parliamentarians - in anything that might chill freedom of expression arbitrarily and unnecessarily."
Lord Hunt went on to say he had suggested a new system of self-regulation, to be funded by publishers.
"Do we really need a press law to highlight the need for a cultural change?" he asked.
"If we receive the green light we will immediately move to set up a new body. I am pleading for an opportunity to make progress now."
Journalist conduct
Lord Justice Leveson also said he would provide a report regarding any new press regulation "that will make a recommendation, but it will not be my decision".
He went on to say how he might examine whether there was particular evidence regarding the conduct of Associated Newspapers journalists.
The dispute centres on a 2003 raid on the premises of private detective Steve Whittamore. It uncovered evidence of thousands of data-protection offences and the names of 305 journalists to whom Whittamore provided information.
In a report on the raid - known as Operation Motorman - by the information commissioner, the Daily Mail was identified as the biggest user of Whittamore's services.
Whittamore was arrested and later pleaded guilty to obtaining and disclosing private information under the Data Protection Act. He was given a two-year conditional discharge.
The editor of the Daily Mail, Paul Dacre, told the inquiry in February that he did not accept there was evidence the group's journalists had been "actively behaving illegally".
Details of the information seized was passed to the inquiry by a former investigator with the Information Commissioner's Office.
Lord Justice Leveson may use the data when he writes his final report, according to the BBC's Ross Hawkins.
PCC's 'failure'
Meanwhile, NUJ general secretary Michelle Stanistreet and chairman of the NUJ's ethics committee Professor Chris Frost said self-regulation of newspapers had "failed the test every time".
They gave their views on regulation in a joint written statement submitted to the inquiry.
"The PCC has failed as a regulator of the press," they said.
"It is the very structure of the PCC as an industry-fostered, self-regulatory body that has led to its failure."
"Self-regulation has been given the chance to work in many different forms over the past 40 years and has failed the test every time."
Ms Stanistreet also said proposals for a new system of self-regulation - outlined by Lord Hunt - were "nothing but more of the same".
"Whilst the NUJ is hugely disappointed that we have reached this point, despite more than 20 years of campaigning for reform of the PCC and press regulation, we now see it as inevitable that there should be some statutory provision for a new regulator," said Ms Stanistreet and Mr Frost in their statement.
Mr Frost, head of journalism at Liverpool John Moores University, added in a separate written statement: "The principle object of the new [regulatory] body should be to uphold and promote free expression and media freedom.
"This will require it to oversee a responsible media and hold that media to account both directly from its own monitoring of performance and investigations of practice and through a public complaints system."