Olympic torch: Flame to visit Winchester Cathedral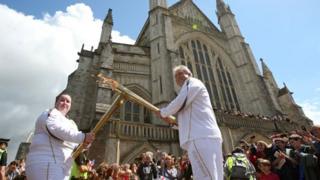 The Olympic flame has visited Winchester cathedral, novelist Jane Austen's resting place, on day 54 of the torch relay.
The convoy travelled from Reading to Salisbury covering 105 miles with 120 torchbearers taking part.
Among the morning's flame carriers were BBC Sport presenter Clare Balding and 1948 Olympic gymnast George Weedon.
He passed the flame to Richard Phelps, who won a bronze modern pentathlon medal at the 1988 Seoul Games.
Weedon, 92, finished 12th out of 16 nations after participating in the men's individual all-around, team all-around, floor exercise, horse vault, parallel bars, horizontal bar, rings, and pommel horse in the London Games 64 years ago. He competed his stint on the outskirts of Reading.
Balding carried the flame in Newbury. She is from the Hampshire/Berkshire border area and is a patron of Riding for the Disabled and the British Paralympic Association.
The first torchbearer of the day was Lee Umpleby, 34, from Reading, at Caversham Court Gardens at 07:50 BST.
He was nominated by Reading City Council for his work as a community police officer.
Also in the town, Brenda Heys of the West Berkshire Down's Syndrome Association ran with her two young sons - who have the condition.
Halfway through her run, a member of the torch security team held hands with both of the boys before carrying one for a while. The stint finished with the four of them making a human chain.
In Basingstoke, the relay followed the same route as the 1948 torch relay. Hampshire County Council said when the relay route was announced that the series of rolling road closures would be the biggest since the Tour de France visited the county in 1994.
During the morning, the relay also visited Theale, Thatcham and Kings Worthy.
After the lunch stop in Winchester, England's former capital with its landmark of the longest medieval cathedral in Europe, the convoy travelled to Andover, Ludgershall, Tidworth, Amesbury, The Winterbournes on its way to Salisbury.
The torch was carried to the cathedral by Kirstie Nash, 18, from Winchester, who was nominated for the help and support that she gives to her disabled sister.
The evening celebration was at Hudson Field, Salisbury, with the torch carried there by Dolly Burnett, 49, from Salisbury.
The venue is in the shadow of Old Sarum, the ruined castle that marks the site of the original settlement in the area.
On Tuesday, the torch was greeted by the Queen and Duke of Edinburgh at Windsor Castle , where London 2012 chairman Seb Coe introduced them to the torch team, torchbearers and some local schoolchildren.
A total of 8,000 people will carry the flame during its 8,000 mile, 70-day journey to the opening ceremony of the Olympic Games in London on 27 July.