Newspaper review: Lords reform fallout considered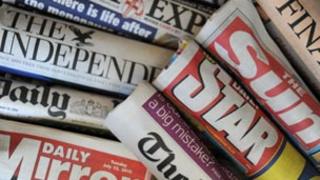 The tension between Conservatives and Liberal Democrats over plans to reform the House of Lords is considered in Tuesday's newspapers.
The Daily Mail sees it as an episode in the break down of a relationship.
Ann Treneman of the Times thinks David Cameron and Nick Clegg need marriage guidance to keep their union intact.
But the Daily Telegraph says problems like the economy and the deficit - problems which united them - "should be enough to keep the marriage together".
What the government is proposing to do for people who need residential care is summed up by the Telegraph as a "pay when you die" policy.
Health Secretary Andrew Lansley says the government is setting out "minimum rights and standards", tailoring care around the needs of the individual.
But for the Daily Mirror it is a "betrayal" of pensioners.
That is because, as the Financial Times explains, it does not cap the sums individuals have to pay for care.
The Independent takes a look at the poor trading figures reported by Marks and Spencer and "wonders where it all went wrong".
Offering a judgment, it says: "M and S is offering too much choice."
The Guardian says the excuses offered by the company "are the equivalent of 'the dog ate my homework'".
And the Daily Telegraph points out that "the country's largest clothing retailer can't find a clothing retailer to run its clothes shops".
Nearly all the papers are struck by the human drama surrounding the death of Eva Rausing, who was thought to be one of the richest women in the UK.
Pictures of her appear on most of the front pages, including the Sun,Daily Mirror and Daily Mail.
However, the Daily Express bucks this trend by featuring an image of singer Adele on its front page.
The paper reports that the Grammy award winning singer is seven months pregnant and is due to give birth in September.