Operation Elveden: Mirror and Star journalists arrested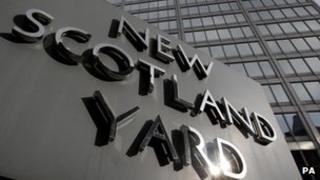 Police investigating corrupt payments have arrested two journalists as part of Operation Elveden.
Sunday Mirror crime reporter Justin Penrose and Tom Savage, deputy news editor of the Daily Star Sunday, were questioned on suspicion of conspiracy to corrupt and conspiracy to cause misconduct in a public office.
The men were later released on bail.
The newspapers' owners - Trinity Mirror and Express Newspapers - said they were co-operating with authorities.
Trinity Mirror also said officers searching Mr Penrose's desk had taken away "various items", including his computer.
The Metropolitan Police's Operation Elveden was set up to investigate alleged inappropriate payments to police and public officials by journalists.
A spokesman for the Met said the arrests related "to suspected payments to a public official and are not about seeking journalists to reveal confidential sources in relation to information that has been obtained legitimately".
"A 37-year-old man was arrested at his home in Kent, and a 34-year-old man at his home in south-east London at approximately 06:00 this morning on suspicion of conspiracy to corrupt (contrary to the Prevention of Corruption Act 1906) and of conspiracy to cause misconduct in a public office (contrary to common law)."
Mr Penrose has worked for the Sunday Mirror since 2004, becoming crime correspondent in 2006.
In previous written evidence to the Leveson Inquiry into press ethics, Mr Penrose said the newspaper never paid police for stories.
Mr Penrose is not the only Mirror journalist to be questioned recently by Operation Elveden police.
On 4 July, former Daily Mirror journalist Greig Box-Turnbull, 37, who worked for the newspaper until March, was one of three people arrested by officers investigating corrupt payments.
A prison officer, 46, and a 50-year-old woman were also held.
Police operations
Some 41 people have been arrested as part of Operation Elveden, being run in conjunction with Operation Weeting, which is looking into phone hacking.
Thirty-four journalists, former journalists and newspaper executives have been formally arrested as part of the phone hacking, corrupt payments and computer misuse investigations.
Two have been released without further action
One has been charged
Twenty-nine are on police bail
Two - arrested on 11 July - are being questioned