Three more men appear in court over alleged terror plot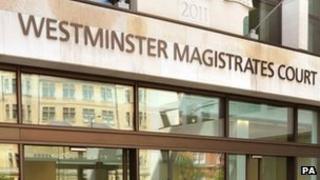 Three more men have appeared at Westminster Magistrates' Court over an alleged plot to attack English Defence League members.
Mohammed Saud, 22, and Zohaib Ahmed 22, Anzal Hussain, 24, from Birmingham, were remanded in custody until 31 July.
Police allege they made an improvised explosive device and acquired weapons.
They are jointly charged with preparing for an act or acts of terrorism with the intention of committing such acts, along with three other men.
A seventh man was earlier released without charge.
Jewel Uddin, 26, Omar Mohammed Khan, 27, and Mohammed Hasseen, 23, all from Sparkhill, Birmingham, appeared at Westminster Magistrates' Court on Tuesday.
They were also remanded in custody until a hearing at London's Old Bailey on 31 July.
The three men were arrested after police stopped a Renault Laguna on the M1 near Sheffield, South Yorkshire, on 30 June.
Police allege they found guns, knives, machetes and a home-made explosive device in the car.
Mr Hussain, Mr Saud and Mr Ahmed were allegedly in another car, which had been travelling in convoy with the Laguna, Westminster Magistrates Court heard on Wednesday.
The alleged target of the attack was the English Defence League, which had held a rally in Dewsbury, West Yorkshire, earlier that day.