Five more charged over 'bogus' bomb detectors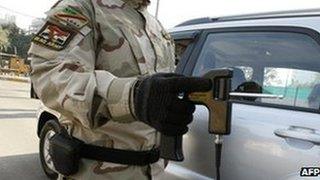 Five more people have been charged over an alleged scam involving the sale of phoney bomb detecting devices to governments around the world.
The charges came as the man behind the company that made the devices appeared at Westminster Magistrates' Court.
Jim McCormick, 55, of Langport, Somerset, was remanded in custody. He denies six fraud offences.
Mr McCormick says the devices, manufactured by his firm ATSC, were bona fide detectors for explosives.
The £40,000 detectors were made at Sparkford in Somerset. ATSC claims they use an electronic detector to sniff out explosives.
In a related move, City of London Police on Thursday charged Gary Bolton; Samuel Tree; Joan Tree; Simon Sherrard and Anthony Williamson with various fraud charges relating to a variety of bomb-detecting devices.
The five will appear before City of London Magistrates' Court on 18 July.
Mr McCormick, who had been on bail since 2010 when Avon and Somerset Police originally charged him, will appear again on 19 July.
Prosecutors said he had made between $70m and $80m (£45m-£52m) from sales to Iraq alone of what they called a "worthless" and "totally useless" device.
They said he now owns homes in the US, Cyprus and the UK.
Prosecutors claimed that complaints have been received from several countries about the devices - including Kenya, Niger, Georgia, Bahrain and Belgium as well as UN peacekeepers in Lebanon.
It has been marketed as advanced detection equipment to find everything from bombs to diamonds, dollar bills and human remains.
The charges made against Mr McCormick, which he denies, followed a complex police inquiry lasting two-and-a-half years.
Related Internet Links
The BBC is not responsible for the content of external sites.