London probation contract won by private firm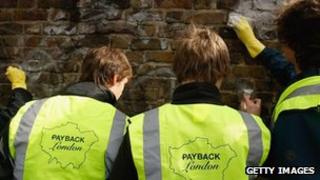 A private security company has won a four-year contract in London to supervise offenders on probation doing unpaid work in the community.
It is the first time a major area of probation work has been out-sourced to the private sector.
The company, Serco, in a joint bid with the London Probation Trust, won the contract to run community payback schemes across the capital.
The Ministry of Justice said the contract would save taxpayers £25m.
About 15,000 offenders are sentenced to carry out community payback every year.
The government has proposed opening up more community sentence services to the private and voluntary sector as part of its review into probation.
But earlier this week, the chief inspector of probation for England and Wales, Liz Calderbank, warned about the dangers of contracting out probation services.
Writing in the inspectorate's annual report, Ms Calderbank said she had "concerns" the plans would make it harder to manage medium-risk offenders who commit most serious further offences.
She said it would be "regrettable" if services became fragmented as a result of more providers being involved, as this would increase the potential for communication problems.
Serco was chosen for the London contract ahead of consortia involving Sodexo/Essex Probation Trust; and Mitie/A4E.
The Probation Association and the Probation Chiefs Association congratulated Serco and London Probation Trust on winning the contract but they stressed the need for "responsible competition" in the future.
They said expanding the approach would require care and should aim to include small and medium-sized enterprises.