Leveson Inquiry: Summary of week 25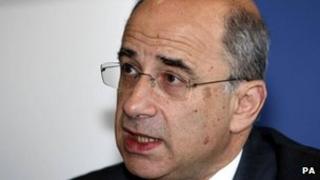 After hearing months of evidence about the problems of the press, Lord Justice Leveson started the week with a new module of his inquiry - one devoted to discussing possible solutions for press regulation.
And while witnesses felt differently about the use of legislation, all agreed on the importance of upholding and promoting free expression and media freedom.
Lord Black - chairman of the Press Standards Board of Finance, which funds the Press Complaints Commission - backed an "extremely robust" self-regulatory system with "muscular powers".
He warned the vast bulk of industry was opposed to statutory regulation which he said would be open to "constant legal challenge".
In a weighty submission , Lord Black called for a new body with the power to launch investigations and levy fines of up to £1m.
'Censorship'
PCC chairman Lord Hunt also made it clear he was "keen" to set up a new system of self-regulation, to be funded by publishers - also arguing against statutory regulation which he said could lead to censorship.
His comment was quickly rebuffed by Lord Justice Leveson, who pointed out he had "absolutely no truck with censorship".
Meanwhile, the PCC itself did not get favourable feedback this week.
Speaking on Tuesday, NUJ general secretary Michelle Stanistreet and chairman of the NUJ's ethics committee Professor Chris Frost told the inquiry the PCC had "failed" as regulator of the press - dismissing Lord Hunt's proposals for a new system as "nothing but more of the same".
In a change of direction from previous witnesses, they said "some statutory provision for a new regulator" was now "inevitable".
After a day off, the inquiry heard from Roy Greenslade, an academic and ex-editor of the Daily Mirror, who underlined the "positive effect" the hearing was having on the press.
Tabloid newspapers had stopped writing "kiss and tell" stories since it was set up, he suggested.
Friday saw members of the Coordinating Committee for Media Reform - an organisation that coordinates work by media campaigners and academics - giving evidence to the inquiry.
'Code of ethics'
Committee chairman James Curran argued that any person who had inaccurate information printed about them should be given a statutory "right of reply" - with the same prominence in the paper as the offending article.
Others appearing included Irish Press Ombudsman, Professor John Horgan, and Lara Fielden of the Reuters Institute - author of what ‪Lord Justice Leveson‬ called a "monumental" study of how press is regulated across world.
Hugh Tomlinson QC - a barrister who represented footballer Ryan Giggs in his recent legal battle with a tabloid newspaper - outlined proposals for the creation of a journalists' "code of ethics and responsibility".
His submission was put together by the Media Regulation Roundtable - a group of academics, lawyers and journalists - who have called for the formation of a body called the Media Standards Authority.