Dame Kelly Holmes holds Olympic flame in Tonbridge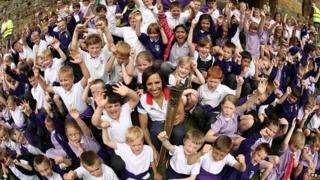 Double Olympic champion Dame Kelly Holmes has held the flame during its journey from Brighton and Hove to Hastings on day 60 of the torch relay .
The athlete, who won 1500m and 800m gold in Athens in 2004, lit a torch at Tonbridge Castle, in a visit away from the day's main 109-mile route.
Comedian Eddie Izzard and former daredevil motorcyclist Eddie Kidd were also among the day's 137 torchbearers.
The relay began at 07:20 BST at Brighton's Royal Pavilion.
There it was carried by 17-year-old Zachary Narvaez, who raised funds for cancer research and hospice care after his grandfather died.
Olympic spirit
The flame visited locations including Crawley, Copthorne and East Grinstead in West Sussex, before crossing the border into Tunbridge Wells, Kent.
And it made an extra stop in Tonbridge, which was not part of the original relay route but was added after Dame Kelly voiced her disappointment that it and her home village of Hildenborough would miss out.
She and Frank Verge, who was a torchbearer in the 1948 torch relay, carried the 2012 flame in front of a crowd of invited schoolchildren.
"I was very disappointed that Tonbridge wasn't going to be part of the torch relay," said Dame Kelly.
"I couldn't believe it hadn't been factored in that Tonbridge came out for my homecoming parade, so of course I had to go and make some noise.
"Olympic spirit for me is just massive and I think the flame has captured everyone's imagination with the torch relay.
"It's such a shame that my community and the people who supported me didn't get a sense of that spirit so I went to Locog to explain my disappointment and said, 'We really need to put on an event, we're going to have to put on an event."
Former motorcycle stunt rider Eddie Kidd, 53, from Peacehaven, was given a huge cheer and plenty of encouragement as he carried the flame in Lewes.
He achieved 14 world records before a crash at a motorcycle rally left him partially paralysed. Kidd walked the 2011 London Marathon in 50 days, raising more than £100,000.
Later Eddie Izzard proved a huge draw for the crowds when he carried the flame in Bexhill-on-Sea in recognition of the 43 marathons he ran in 51 days for Sport Relief in August 2009.
Guard of honour
There the local rowing club turned out to show their support by forming a guard of honour with their rowing blades.
Brighton hip hop duo Rizzle Kicks - Jordan Stephens and Harley Alexander-Sule - ran with the torch together in Eastbourne ahead of their performance at the evening celebrations in Hastings.
In Hastings, Martyn Compton, 28, took his turn with the torch having been nominated by Sports Minister Hugh Robertson for his "exceptional courage and bravery".
As a soldier with the Household Cavalry, Martyn suffered horrific injuries in Afghanistan six years ago when the armoured vehicle he was travelling in was blown up by the Taliban, killing his three colleagues.
The 28-year-old was in a coma for three months after suffering 70% burns and needed several operations to rebuild his face.
He has since rebuilt his life, fathering a son and becoming a proactive fundraiser for servicemen and women injured on operations.
There was a ticketed event on The Stade Open Space in Hastings Old Town where torchbearers from earlier in the day, Rizzle Kicks, gave a performance along with the Hastings Philharmonic Choir.
A total of 8,000 people will carry the flame during its 8,000 mile, 70-day journey to the opening ceremony of the Olympic Games in London on 27 July.