Charity review: Calls for 'chugging' regulation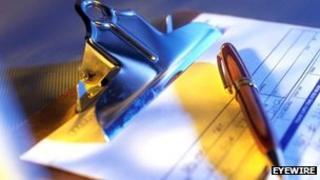 Councils should be given greater powers to deal with aggressive charity collectors on High Streets in England and Wales, according to a new report.
In his review of the charity sector , Lord Hodgson recommended councils be able to license fundraisers and control where and how collections take place.
Council rules do not currently cover so-called chugging - "charity mugging".
The government said all the Conservative peer's recommendations would be "carefully considered".
Lord Hodgson said there was a "broad consensus" that the licensing laws did not apply to "chugging" because it involved donors signing up to direct debit payments rather than handing over cash.
He said the Public Fundraising Regulatory Association (PFRA) estimated chuggers raised some £130m for charity each year.
"The problem with 'chugging' is that it is seen as, and can be, aggressive, to the point where anecdotal evidence suggests that the presence and activities of 'chuggers' can discourage people from going to nearby shops, or even visiting high streets at all," he wrote.
"These are issues of frequency and behaviour - both of which can and should be addressed through regulation."
But, referring to voluntary site agreements between collectors and local authorities established by the PRFA, he added: "I would urge local authorities to try voluntary site agreements - and only if problems persist, consider resorting to statutory regulation."
Smaller charities
The government appointed Lord Hodgson last year to investigate the effectiveness of the Charities Act 2006.
In his report, he said charities with incomes of more than £1m should be automatically allowed to pay their trustees. But he recommended that smaller charities still be required to get permission from the Charity Commission because there was a "danger of abuse" if they fell "below the regulatory and public radar".
The National Council for Voluntary Organisations (NCVO) said the change "would blur the boundaries between commitment to a cause and financial reward".
"Making the right (to pay trustees) automatic undermines the value of voluntarism which defines the sector and goes against the public mood," NCVO chief executive Sir Stuart Etherington said.
But a Cabinet Office spokeswoman said the change would give large charities "another tool" to help recruit trustees with "the right skills and experience".
Other recommendations in Lord Hodgson's report included raising the income threshold for compulsory registration with the Charity Commission from £5,000 to £25,000, removing Gift Aid for organisations who were late in filing accounts, and introducing fees for registering new charities.