Leveson Inquiry: Max Mosley calls for press tribunal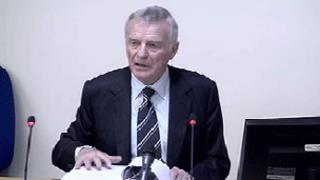 Ex-motorsport head Max Mosley has called for the creation of a press tribunal underpinned by statute.
The tribunal should have powers to fine newspaper groups up to 10% of their turnover, he told the Leveson Inquiry.
Mr Mosley said it should handle issues of "privacy, defamation, media harassment and accuracy".
In 2008, Mr Mosley won £60,000 in damages from News of the World over an article alleging that he took part in a "sick Nazi orgy", which he denied.
A High Court judge ruled that the article had breached the former International Automobile Federation president's right to privacy.
Mr Mosley gave evidence to the Leveson Inquiry in November during its first module - on the relationship between the media and public.
He returned on Wednesday as inquiry chairman Lord Justice Leveson analysed options for newspaper regulation.
'Major problems'
Mr Mosley proposed establishing a tribunal that would have authority over the printed press, press agencies and the internet, with powers to impose fines, award damages and order corrections.
He said a number of "major problems" had to be solved.
"First, litigation for breach of privacy or defamation is beyond the means of all but the richest, be they newspapers or individuals. Justice is thus denied to most of the population," he said, in a written statement to the inquiry.
"Second, a section of the British press has for many years repeatedly gone well beyond the bounds of civilised behaviour, routinely breaking the law, ignoring rules devised by the newspaper industry itself and adopting a bullying and dishonest approach to litigation."
Mr Mosley said the current media watchdog - Press Complaints Commission (PCC) - had lacked the power to enforce its rules.
"We need to resolve these problems without in any way restricting public interest and serious investigatory journalism - the freedom of the press," he added.
"The proposed solution is to create an entirely new body, the Press Tribunal, to mediate and where necessary enforce the rules, while keeping the existing rule-making body, the PCC, albeit in modified form, as the Press Commission."
Mr Mosley said the tribunal could be financed by "fines" and a levy on newspapers.
Meanwhile, a photographer has told the inquiry he was commissioned by the People newspaper to find and photograph the McCann family on their first holiday without their daughter Madeleine.
Matt Sprake said he travelled with a People reporter in 2008 and took pictures of the family at Vancouver airport.
His witness statement revealed his company has been used often by the People and the News of the World and less frequently by the Daily Mail and Mail on Sunday.
He said his company also photographed MPs drinking on the House of Commons terrace, taken from Westminster Bridge.
On another occasion he was told to use a "body worn" camera to capture bankers spending their bonuses in a bar.