Newspaper review: bomb in Syria focus of attention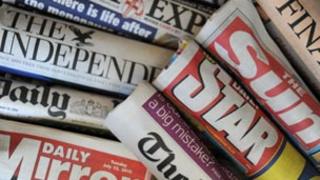 The Times says the bomb attack in Syria which killed three of President Assad's closest aides has "left world powers searching desperately for a diplomatic solution to a conflict spiralling out of control".
The Independent calls it "a devastating strike to the jugular" of the Assad regime.
According to The Guardian, the Syrian uprising has entered uncharted territory. The Guardian, the Syrian uprising has entered uncharted territory. The paper talks of a "swirl of rumours" including one that President Assad's wife is in Russia.
The Daily Mail is one of several papers to report that - for the first time since the 1970s - Britain is selling more goods to countries outside the EU than to those inside.
It says firms are entering growing markets in Asia and Latin America in what economists are calling a "revolution in the orientation of British trade".
The same story appears in the Daily Express , which leads with an article under the headline: "Proof we don't need to be in EU".
According to the Daily Telegraph, tourism chiefs here have attacked the Chief Executive of VisitBritain Sandie Dawe for suggesting visitors are not interested in British beaches.
The head of VisitCornwall, Malcolm Bell, tells the paper: "It was unwise and ill-informed."
The Sun tells how a young man who was paralysed after a near-fatal stroke learnt to walk and talk again and feed himself by copying his 23-month-old daughter. Mark Ellis, from Derbyshire, suffered from "locked in syndrome".
The Sun leads on reports that two Olympic guards have been arrested of being illegal immigrants; one was apparently due to be a supervisor for G4S.
According to The Guardian, rehearsals for the opening ceremony are being disrupted by clashes between the director, Danny Boyle, and the company in charge of broadcasting the games.
A source has told the paper relations are now so strained, an extra ring of security has been put around Boyle's trailer within the Olympic stadium.