Milk price row: Farmers and processors agree draft deal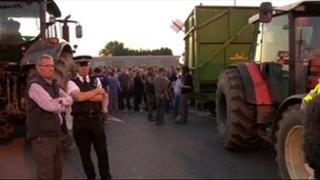 Dairy farmers and the processing firms they supply have agreed on the broad principles of a deal in their dispute over milk prices, the government says.
The draft agreement relates to a voluntary code of practice designed to give farmers more bargaining power.
But the National Farmers Union said it would not solve the current "crisis".
Farming Minister Jim Paice has chaired a meeting between the NFU and Dairy UK following a series of farmers' protests over the prices they are paid.
Farmers are angry at cuts of up to two pence per litre (ppl) in the amount they receive from major milk processors, which are set to come in from 1 August and follow cuts earlier in the year.
The finer details of Monday's draft agreement, reached during the talks at the Royal Welsh Show, in Llanelwedd, Powys, will be negotiated between the two sides over the summer.
Government officials said they could still bring in legislation at a later date if a voluntary code failed to work.
Dairy UK said it was "very pleased that heads of agreement have been reached on the voluntary code of practice".
It added: "There is now a lot of work to be done in taking the code to the implementation stage and we are committed to doing this."
NFU President Peter Kendall said the announcement gave some hope for the long term but did not solve the dairy farming issues of today.
"We will spend the rest of this month collectively throwing 100% of our efforts into reversing the price cuts from earlier this year and rescinding the ones on the horizon on August 1," he said.
BBC political correspondent Alan Soady says the NFU has indicated the protests by farmers will continue, despite the outcome of the talks.
Campaign group Farmers for Action earlier said more than 2,000 farmers had taken part in blockades in Somerset, Shropshire and Worcestershire on Sunday over the prices they receive.
It has warned cuts in the price paid to suppliers by dairy processors, combined with rising feed costs, could force hundreds of dairy farmers out of business.
Robert Wiseman Dairies and First Milk are cutting the price it pays for milk by 1.7ppl, Arla Foods UK by 2ppl and Dairy Crest by 1.65ppl.
Processors say the price of cream on global markets has fallen over the past year - from £1,800 per tonne in June 2011 to £1,020 in June 2012 - and the drop must be reflected in the price they pay to UK farmers.
The government is to meet major retailers on Wednesday to discuss the price dispute, as they were not part of Monday's talks.
Mr Paice said ministers would focus on how to increase "dairy industry sustainability" through "greater sourcing and promotion of British dairy products"".
Aldi confirmed on Monday it would pay an additional two pence for every litre of milk purchased from 1 August. It said it had informed the NFU of this price increase last week.
Last week Morrisons, Asda and the Co-op also announced that from 1 August they would increase the premium they pay farmers for their milk.
Before Monday's meeting, Mr Paice had discussed the issue with his Scottish and Welsh counterparts, Richard Lochhead and Alun Davies, and suggested an independent adjudicator be created to oversee any voluntary code of conduct.
Mr Lochhead said the heads of agreement was a "good step forward" but that the dairy sector was "not out of the woods just yet".
"The test of success for our farmers will be when we see them being paid a decent return - and certainly one that is above the cost of production," he said.
Farmers are often locked into fixed-term contracts with processing firms - effectively middlemen selling the milk on to customers including retailers and food production companies.
Supermarkets assess how much it costs farmers to produce milk and then decide how much to pay above that as a premium, taking into account factors such as rising feed prices.