Newspaper review: Wiggins victory hailed by papers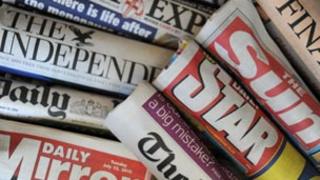 British cyclist Bradley Wiggins is on every front page, celebrating victory in the Tour de France.
"Magnifique!" is the headline in the Daily Mirror .
For the Daily Express , his triumph was an "awe-inspiring moment" which "cemented his place among the nation's greatest sporting heroes".
The Sun says Wiggins "joins the ranks of national sporting giants who will forever be revered - Sir Steve Redgrave, Ian Botham, Bobby Moore".
Perfect timing
According to the Daily Mail , the campaign for a knighthood for Bradley Wiggins has the support of both David Cameron and Nick Clegg.
The Daily Telegraph says Wiggins' triumph was the "perfect hors d'oeuvre" for the Olympics.
The Independent recognises that the timing is perfect .
The Daily Star says Games organisers are being urged to let Wiggins light the cauldron in the Olympic Stadium at the opening ceremony.
Luxury yachts
The Sun claims to have "smashed" what it describes as a "visa scam" giving potential terrorists the chance to sneak into Britain with Pakistan's Olympic team.
Meanwhile, the Daily Mail pictures some of the luxury yachts that have swapped Monaco and Cannes for east London for the duration of the Olympics.
For those who cannot quite stretch to owning a superyacht, one - the Seanna - can be chartered.
It is available for £294,000 a week.
Pensions call
Government proposals to "name and shame" people who use aggressive tax avoidance schemes is the main news for both the Times and the Independent .
The Times welcomes the measures but says they do not go far enough.
A call for pension firms to scrap excessive fees and unfair terms features in the Daily Telegraph .
Pensions minister Steve Webb writes there is evidence that "sky-high charges are tearing the heart out of people's pensions".