Newspaper review: Colorado court hearing on front pages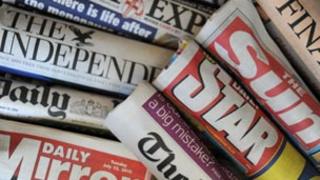 The man accused of the cinema massacre in Colorado is widely pictured on the front pages of Tuesday's newspapers.
The Daily Telegraph says James Holmes refused to acknowledge the sobbing families of some of his victims during his first court appearance.
The Daily Mirror describes the hearing as "bizarre". With his hair dyed orange, Holmes seemed emotionless, it said.
But the Guardian notes there is little sign so far of any "meaningful political debate" starting on gun laws.
Euro 'broken'
Spain's economic woes are covered, with the Independent speaking of it taking "another lurch towards the financial abyss" as its debt costs soared and world stocks plunged in response.
The Sun sums up the falls in the share values of Britain's biggest firms with the headline: "Pain in Spain sends £30bn down the drain."
The Daily Mail says the debt crisis threatens Spanish democracy.
In the words of the Daily Express, the single currency is "thoroughly broken".
'Wake-up' call
The attack by a treasury minister on householders paying tradesmen in cash as "morally wrong" is given prominence in the Daily Mail and Daily Telegraph.
The Telegraph also carries an interview with Tony Blair in which he warns against taking vengeance on bankers.
The Times describes an upsurge of violence in Iraq as a wake-up call for the government in Baghdad.
The Guardian notes that the violence came just a day after an Iraqi group affiliated to al-Qaeda gave a warning.
VIP invasion
The build-up to the Olympics continues to occupy the papers.
The Times says ministers are to tackle resentment among London commuters about disruption ahead of the Olympics.
The Independent reports on the "VIP invasion" alongside the Games that will provide the government with a "golden opportunity" to sign trade deals.
Ministers are using the games as a backdrop for a "carefully-choreographed diplomatic and commercial charm offensive", it adds.