London 2012: Team GB athletes arrive at Olympics village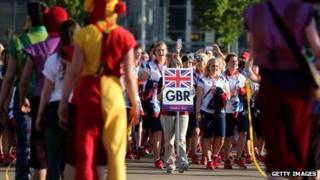 Team GB athletes have been welcomed to the athletes village at Olympic Park in a ceremony that opened with a rendition of Queen's "Bicycle Race".
They join thousands of competitors already at the village ahead of the start of the Games on Friday.
Deputy Prime Minister Nick Clegg told Team GB: "The people of Britain won't just be watching you - they'll be right there with you."
Team GB tennis player Jamie Murray told the BBC the ceremony was "inspiring".
Middleweight boxer Anthony Ogogo said the welcome had been "infectious".
"I thoroughly enjoyed it - all the colours, the dancing, they'd done a bit of Queen music - I was trying my hardest not to start trying to join in," he said.
"That's what the Olympics is all about - it's fun. Everyone's worked so hard. I've worked the last 11 years of my life to get here and it's just all about enjoying it now and then when the Games start, switching on and doing the job at hand."
Team GB shooter Richard Faulds told the BBC there had been a great atmosphere.
"Tonight it's all about having fun - enjoying the experience - getting revved up for what we're about to do over the next couple of weeks."
Tennis player Jamie Murray, who is playing doubles with his Wimbledon finalist brother Andy, said the ceremony was "very cool".
"I didn't have any idea what to expect really," he said. "I thought they put on a great show - it was exciting, quite inspiring as well and I'm sure most of the athletes enjoyed it."
The welcoming ceremonies for teams arriving at the athletes village are being performed by a 160-strong group of performers from the National Youth Theatre of Great Britain.
Addressing the athletes, Mr Clegg said Britons were "gripped by Olympic fever".
"They'll be following you into battle: sharing in your dreams; standing alongside you in any disappointments; and when you triumph, as you will, revelling in your joy," he said.
"There is strength in numbers - something every team player knows. In your most challenging moments, draw strength from the people out there. You embody a nation's hopes; you have captured its imagination; and the people of Britain will be there by your side, supporting you, every step of the way."
He later described the atmosphere at the ceremony as "incredible".
"Those of us who were on the steps there in the VIP pen, most of us wanted - I certainly wanted - to jump down and join the dancing. It was great. It was incredibly dynamic and full of energy."
In other Olympics news:
Meanwhile, Culture Secretary Jeremy Hunt says 1,200 troops who had been on standby to bolster security at the Games will be used because ministers are clear that "we don't want to leave anything to chance".
Earlier this month 3,500 personnel were drafted in after security provider G4S said it could not deliver enough guards.
The new deployment means 18,200 troops have now been deployed to the Games.
Paul Deighton - chief executive of Olympic organisers Locog - said G4S had just under 6,000 personnel deployed for the Games to date.
Mr Hunt said that the move to bring in extra troops was not because G4S's performance had deteriorated - he said it had actually improved.
"We just decided that this is the right measure to take because for the public the most important thing is a safe and secure Games," he said. "It's better to have those troops on the ground so that, were they to be needed, they can swing into action immediately."