UK customs 'ignore drug suspects to beat Olympic queues'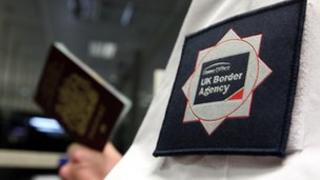 Suspected drugs couriers are being waved through customs checks because of understaffing at Heathrow Airport, immigration officers have told the BBC.
They say alerts have been ignored on several occasions as customs officers are deployed to help cut passenger queues in the run-up to the Olympics.
The BBC has also learnt border staff who received redundancy payouts have been re-hired to cover the Games.
The Home Office says proper checks are always made.
'Prohibited substances'
But immigration officers have told the BBC that because all the focus has been placed on reducing long queues at Heathrow in the lead up to the Games, other areas are no longer a priority and suspected drugs couriers have been allowed through the gates.
Speaking to Radio 4's The Report programme on condition of anonymity, one Heathrow worker said: "We have a watch-list of passengers whose profile identifies them as people who might be bringing prohibited substances into the country.
"On several occasions we've rung customs control to report a passenger, but they have not had anyone to follow it up. The priority is queue-busting."
Another said: "If I were a drugs baron, it will be a free-for-all during the Olympics.
"The customs operation has virtually ceased. Customs officers are being deployed on the queues. It's just queue-bust, queue-bust. We're focused so heavily on 100% desk occupancy, everything else has stopped."
The Home Office said there had been regular drugs seizures at Heathrow and other borders in recent weeks.
'Flown from Brazil'
The BBC has also learnt the Home Office has spent £6m drafting in an extra 500 staff, including 120 former UK Border Force employees whose jobs were previously scrapped.
Unions say one couple has even been flown in from Brazil for seven weeks, with flights, hotel and expenses all billed to the taxpayer.
Stephen Taylor, from the PCS union at Heathrow, said: "Both volunteered to assist during the critical incident period of the Olympics and for the pleasure of doing that the taxpayer will pay their flight from Brazil, their accommodation, their subsistence and their flight home again.
"All of which was at taxpayers expense and all of which was due to essentially allowing staff to take early retirement in the first place when they could just have easily have already been normal employees working for normal salary on the front line."
The Home Office denied this.
But it admits the cost of temporarily re-employing staff it has previously made redundant is £680,000.
The re-employed staff will be working for the seven-week "critical period" covering the Olympics and Paralympics.
Earlier this year there were large queues in the arrivals terminals at some of Britain's ports and airports, prompting fears about the length of time passengers would spend clearing passport control.
By far the worst delays - in PR terms at least - occurred at Heathrow, which is where most Olympic visitors will be arriving.
In April, some were waiting up to three hours, prompting the government to act - re-hiring former employees and bringing in staff from other areas of the Home Office to man the immigration desks.
The unions says this proves jobs have been cut too fast and too hard.
The government is planning cut 5,000 border jobs - about a fifth of the total - by 2015.
But the Home Office said the UK Border Force was fully equipped to deal with demand.
However, John McDonnell MP, whose Hayes and Harrington constituency covers Heathrow, warns even terror suspects could be slipping through the net.
He received an anonymous letter from an immigration officer at the airport saying border staff had missed terror suspects passing through the airport on at least six separate occasions in the past few weeks.
Mr McDonnell said: "Our borders are insecure. People will be coming through who shouldn't be coming through.
"Goods may well be coming through that shouldn't be coming through - and that includes drugs.
"The worst element of it, there's a real risk now that terrorist suspects are walking through."
A Home Office spokesman said in a statement: "As we are now seeing at Heathrow, Border Force is fully prepared to cope with busy periods during the Olympics and beyond.
"It is transforming the way it works to deliver improved passenger waiting times as well as a secure border."
Hear more on this story on BBC Radio 4's The Report on Thursday, 26 July at 20:00 BST.
You can listen again via the Radio 4 website or by downloading The Report podcast.