Victims to get right to challenge 'no charge' decisions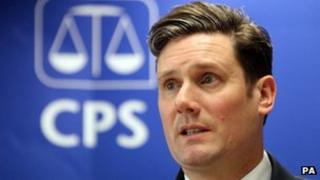 Crime victims in England and Wales are to get the right to a review in cases when it has been decided that no one will be charged.
Victims have often struggled to get prosecutors to reconsider decisions.
Director of Public Prosecutions Keir Starmer says the Crown Prosecution Service is now to change its approach in the wake of an Appeal Court ruling.
It concerned a case where a failure to bring sex assault charges saw victims threaten to seek a judicial review.
The CPS reversed its 2007 decision in 2010 and a man was later jailed for three-and-a-half years. The Court of Appeal ruling came during an unsuccessful appeal against his conviction in June 2011.
The established view of the CPS had been that people should be able to rely on its initial decisions and that suspects should not have to live in constant fear of re-arrest.
But last year the Court of Appeal said "as a decision not to prosecute is in reality a final decision for a victim, there must be a right to seek a review of such a decision".
The European Union has also issued a draft directive to the same effect.
Mr Starmer says reviews should be available to "all victims" and not just in special or exceptional circumstances.
Writing in Criminal Law Review, he says: "Finality has to yield to the need to reach the right decision on the facts of each case."
'Good news'
He said the Appeal Court decision "could never have been contemplated" when the CPS in 1986 decided established guidelines would be adhered to in all but "exceptional circumstances".
But he said that the latest ruling was "perhaps inevitable once it was recognised that victims are not mere observers in the criminal justice process, but real participants with both interests to protect and rights to enforce".
The CPS does not keep figures for complaints or review requests.
But Mr Starmer acknowledges the consequences could be far-reaching as last year the CPS made almost 88,000 decisions not to bring a prosecution.
Assistant chief executive of Victim Support, Adam Pemberton, said the review was "good news for victims".
He added: "The criminal justice system hasn't always done a great job of keeping victims informed.
"This is a big step forward in making a key part of the system more open and transparent for those most affected by crime.
"Our only concern would be if large numbers of appeals result in delays and potential backlogs at court, so it's essential the new system is well resourced to keep cases moving along quickly."