London 2012: Opening ceremony a jolly good show?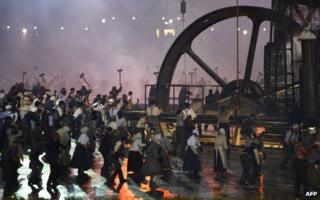 The job was to welcome the world to London for the Olympics, to show our guests around our gaff and introduce ourselves.
So the question now is less about how Britain felt about it all, but what the visitors in the spare room will say.
Domestically at least, the opening ceremony of London 2012 has been acclaimed as a triumph. The British press, the crowds and even the anarchic hordes on Twitter and Facebook appear in almost complete agreement that Danny Boyle produced a "jolly good show".
'Depth and subtlety'
We are a self-critical lot, so the fact that a few locals have made some carping noises is entirely in character. Britain would have been disappointed if they hadn't.
What about the watching world, though? Was the ceremony too parochial, too domestic?
I am always sceptical of those claims of a TV audience of up to a billion people ("up to" being the operative words perhaps) but certainly many tens of millions around the globe will have tuned in. A quick shufti at the foreign press provides clues to what reputational legacy if any Boyle's spectacular might bring.
My favourite bit of analysis comes from Robert Lloyd in the LA Times who said the ceremony "had at times a quality of seeming completely random".
"If there is a through-line to be untangled it might be something like, 'Sorry for the unintended consequences, but we did give you steam engines, great pop music and comedy and the roots of social networking. It was ugly there for a while, but we're all right - and everybody dance now'."
Stadium ceremonial is hard. The scale of the enterprise tends to result in shows painted in primary colours - drums and fireworks, massed ranks and synchronised action.
But the adjectives in the foreign press this morning reflect wonder at a ceremony that had depth and subtlety. It was not "obvious". It was human.
Touching, thoughtful, weird, quirky, baffling - just some of the words used to describe London's show.
"I think I've seen the most chaotic - but possibly greatest - entertainment event of my generation" said the Toronto Sun's correspondent, Thane Burnett.
All nations suffer from cliche syndrome and, until Friday's ceremony at least, the UK was often portrayed as the land of grey skies, crumbling castles and stiff upper lips. But such preconceptions were blown away by a show overflowing with passion and attitude.
From the wild meadows of a bucolic idyll emerged an intimate picture of a people self-assured enough to recognise their glories and their mistakes.
It was a story of industry and creativity, wit and first love - where Mary Poppins banishes Voldemort and dark satanic mills become the venue for warehouse raves.
It was a narrative stuffed with all the contradiction and paradox that national identity contains. We saw authority respected but subverted: Sir Simon Rattle and his orchestra upstaged by Mr Bean; po-going polystyrene punks watched by a real Queen happy to be in on the joke.
And many jokes there were in a ceremony that was at once comical but thoughtful - a portrait of a country that, with the eyes of the world upon it, has the confidence to laugh at itself.
If our international guests are left with the impression that Britain is contemplative and daft, self-deprecating and clever, organised and whimsical, controlled and rebellious - then the ceremony has done its job.
"Be not afeard, the isle is full of noises" was the Shakespearian sentiment which began the show. At its end, the noises of the stadium, across these islands and, perhaps, beyond were those of applause and cheers - with a bit of baffled head-scratching.